No Comments
Mister Romantic by Alice Cooper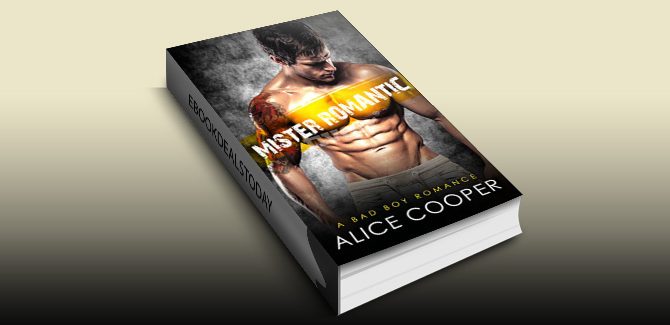 Realtime Price – N/A
The next door neighbor is hot as hell, and is a complete douchebag. When our lips would connect, it was like never before. It was electric. Cosmic. I felt it everywhere.
I guess I'm a sucker for bad boys.
His name is Jaxon King.
He was the type to communicate with his fists and spout nasty words.
When it comes to me his hands are gentle and tender, and his words are comforting. Only me.
Suddenly every other man seems unattractive because I end up comparing them to him.
I couldn't get enough of him, he only left me wanting for more every time.
I have to find something to keep me occupied because I'd end up daydreaming about my neighbor that's irresistibly bad for me.
He tells me I'm not his type but he acts possessive and always make sure that I was safe and sound.
It's like he pushes me away only to bring me back into his arms and never let go.
Mister Romantic is the third book in A Bad Boy Standalone series. All books in this page-turning Bad Boy Romance can be read as standalones, there are no cliffhangers, and happily ever afters are guaranteed! Bonus content included
Genre: Contemporary Romance, New Adult
Mister Romantic by Alice Cooper