No Comments
8/23 .99 Ebook Deal of Day: "Haven" by A.R. Ivanovich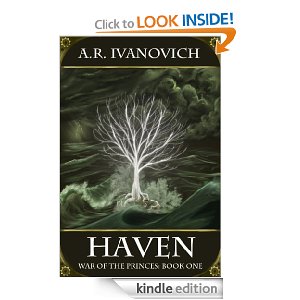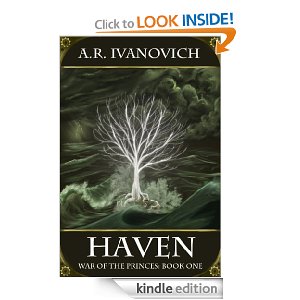 .99 Ebook Deal of Day: (93% off) "Haven (War of the Princes)
" by A.R. Ivanovich
Genre: Young Adult Fantasy

From missing socks to missing people, nothing could remain hidden from seventeen year-old Katelyn Kestrel for long, but after locating a forbidden passage out of her isolated country, Haven, she discovers for the first time that there are some things that should never be found.
Outside the safety of her homeland's borders, Katelyn meets Rune, a young soldier who will die without her immediate aid. She never considered that helping him would lead to her capture. While being held prisoner by the handsome Lord Dylan Axton, she learns that the outside world is rife with war and controlled by people with extraordinary powers. It becomes clear that there was a very good reason the founders of Haven locked their people away from the rest of the world. The depth of her peril reaches a fever pitch when a ruthless Commander wants Katelyn dead. Her only hope is to return to Haven, but can she survive long enough to find her home?
HAVEN is an exciting young adult fantasy novel, set in a unique, rural steampunk world, by debut author A. R. Ivanovich.