No Comments
5/11 99¢ (iBooks)"Shades of Grey" by L.M. Pruitt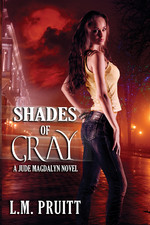 99¢ "Shades of Grey" by L.M. Pruitt
available at iBooks
Description
Jude Magdalyn Henries lives what many would call an unconventional life.
Orphaned at birth, raised by nuns, a teenage runaway living on the streets… she now earns a living at odd jobs, including one as a fake tarot card reader. Very little about Jude's life appears normal, by any scale. When she accepts a gig to do a private reading, unconventional takes on an entirely new meaning.
Life as she knows it ends when she's thrust into a world she never knew existed—one filled with magic, vampires, and her beloved New Orleans on the verge of an underground war. To make matters worse, she's got two men in her life vying for attention, Williams and Theo. Both call to a different part of her, but one scares her just a little bit. Can she step up to the challenges set before her and make the right choices for the greater, which may or not be the greater good?