No Comments
Three Brothers: A Menage Romance by Samantha Twinn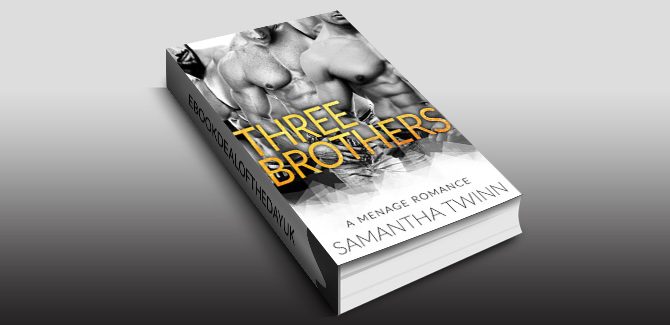 Realtime Pricing: Amzn: $2.99

My life was falling apart until my three stepbrothers came to my rescue.
I lost my mom, my boyfriend, and then my big city job — all within the span of two months. I was about to lose all hope… when my stepbrothers saved me.
Now I've been offered a new life in a small town, living with three gorgeous men who are the only family I have left.
Three brothers…three sets of arms to catch me when I fall.
The Nolan brothers are strong and protective — responsible oldest brother Mitchell, fun-loving Reid, and tender-hearted Finn — and I was wildly attracted to each of them the moment I met them. But I know they're strictly off limits.
After hitting rock bottom, is it possible to start over?
With so much temptation, is it possible to resist?
This is a 47,000-word novel about loss, hope, and desire, featuring three strong, gorgeous brothers. Things reach a climax with hot MFMM scenes that are all about pleasing the woman. Happily ever after guaranteed.
Genre: Contemporary Romance