No Comments
$4.95 "Study Less, Learn More" by Michael W. Wiederman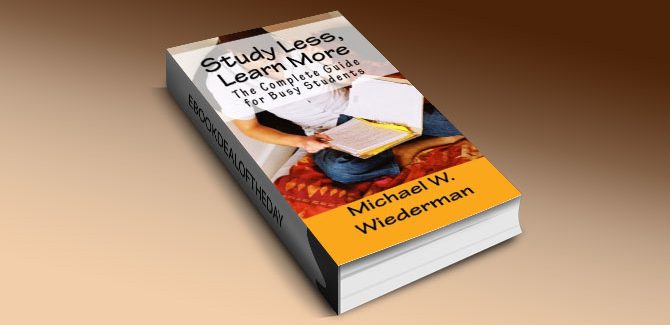 Ebook Deal of the Day: $4.95 "Study Less, Learn More: The Complete Guide for Busy Students" by Michael W. Wiederman
Genre: Education, Selfhelp & How-to
How do you study? According to surveys, the large majority of college students rely on reviewing material–going over it to reinforce it in memory. Unfortunately, extensive research shows that reviewing is among the least effective study strategies. The good news is that the same research clearly points to a much better way.
Study Less, Learn More is based on a synthesis of published research, not simply opinions of students, teachers, or experts. Readers learn how memory and attention work, and how to put these insights into practice for the most effective and efficient studying. The author provides evidence-based answers to such questions as what a study environment should look like, what students need to be doing in class and during their study sessions, as well as how long and how often students should be studying for maximum results.
Because learning and academic performance are influenced by many factors, this book contains numerous strategies and tips for maximum academic achievement. For example, there are chapters on boosting motivation and self-discipline, as well as altering the reader's beliefs about intelligence and learning to produce results. Special chapters on taming test anxiety, mastering mindfulness, getting good sleep, and the dangers of stereotype threat for women and ethnic minority students round out the psychological approach to helping the reader excel as a student. Finally, students like have a book based on the psychology behind effective and efficient self-learning. Are you ready to change your approach to studying and learning?