No Comments
3 FREE Kindles for Mystery, Thriller & Suspense Category!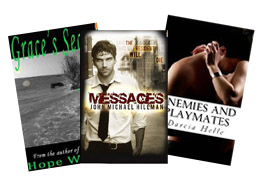 "Enemies & Playmates" by Darcia Helle
When the abused decide to fight back, the abuser's world might just shatter.
Lauren Covington's family maintains a grand facade that belies the life they live behind closed doors. Alex Covington, Lauren's father, keeps a tight rein on his family through dominance, abuse, and obsessive control. Consequently, Lauren doesn't believe she could ever trust a man, much less fall in love with one.
When Lauren meets Jesse Ryder, her carefully constructed protective wall shatters. She falls hopelessly and completely in love. It's only fitting that Jesse is a private detective who had once worked for her father, had defied him, and was now the subject of Alex Covington's wrath.
Amidst devastating loss, betrayal, and her father's destructive pursuit of Jesse, Lauren finds the trust and love she had always longed for.
"Messages" by John Michael Hileman
David Chance can see messages in the sea of words around him, messages that warn him of future events.
Words are everywhere– on labels, magazines, sign posts, t-shirts– everywhere. And as much as David Chance would like to hide from them, he can't. Words keep leaping off objects around him, forming messages in his mind. But how is this possible? Has his brain suddenly taken an evolutionary leap forward, or are the mysterious messages proof of divine intervention?
Driven to answer a question he'd long ago abandoned, and stalked by the killer he's trying to stop, David risks everything to follow the messages to a dirty bomb set to go off in the heart of Boston. But can he trust the author of the messages to protect him from a terrorist who seems to know his every move.
"Grace's Secret" by Hope Walker
Grace is every man's dream, with her blonde curly hair, long legs, and her willingness to let them use her and toss her aside. She thrives on it.

Her life gets tangled when she falls in love for her first time with Trevor, a man from church who's dating Grace's angelic best friend, who also happens to be her sister.

A day at the beach that started out innocently, will changes all of their lives forever, and it forces Grace to harbor a secret from the ones that she loves.

A short story with an ending you think is predictable, but has a wicked twist you won't see coming!