No Comments
Vested Interest: A Reverse Harem Romance (The Code Book 1) by Bethany Jadin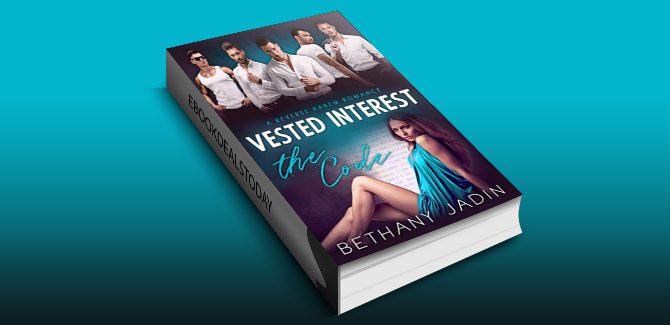 Realtime Price – $3.99
A rebel artist, a tech genius, and three former marines.
Multiple companies are vying for my new security software, but when the men of Pentabyte turn their attention on me, it seems they want more than just my code. They're at the top of their game—intelligent, driven, wealthy—and they have me thinking maybe I want more, too. But everything I've worked for is on the line. Do I dare to mix business with pleasure when the stakes are this high?
Vested Interest is book one of The Code, a reverse harem continuation series of five full-length novels with heart, humor, heat, and an action suspense storyline that gathers in intensity with each book. You'll find a strong woman and five intriguing men, each with their own quirks, wounds, and desires—but their focus is all on her.
There's Jude, the quintessential alpha, always calmly in control
His twin brother, Jax, the mysterious one with a hungry gleam in his eyes
Trigg, the athlete and sweetheart who carries his battle scars quietly
The dashing gentleman, Daniel, with a brilliant mind and refined charm
And Gunner, the youngest of the group and the life of the party
Book one is a deliciously slow burn novel full of tension and chemistry that will tease, tempt, and probably torment you, but buckle up, because things are about to get sizzling hot—and dangerous…
Genre: Contemporary Romance, Romantic Suspense
Vested Interest: A Reverse Harem Romance (The Code Book 1) by Bethany Jadin