No Comments
Toxic Thinking by K.C. Myler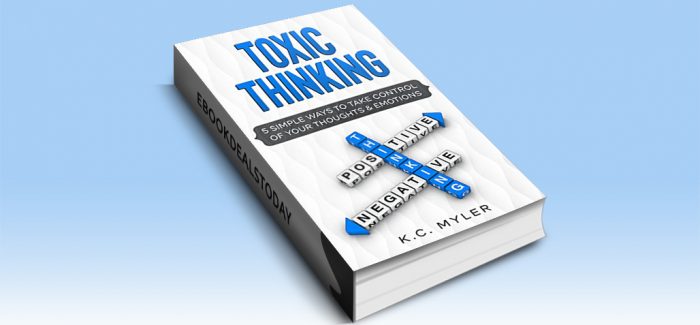 Realtime Price – $0.99
The Essential 5 Step Guide to Defeat Your Toxic Mindset
Do you constantly judge and fixate on your actions and decisions?
Do your thoughts make you increasingly anxious?
Are you always a 'glass half empty type of person?
If you answered 'yes' to any of the above questions, then you may have what psychologists call a "toxic mindset"—resulting in anxiety, depression, lower self-esteem, and poor quality of life.
According to the National Science Foundation, the average person can have anywhere between 12,000 to 60,000 thoughts per day, and about 80% of those are negative.
While self-talk—the voice in your head—is natural in helping you make decisions, many times it can take a negative path, becoming a toxic trap of self-hate that limits you from living a healthy life.
However, there is a way to combat toxic thinking, and it doesn't involve spending your hard-earned cash on costly medicines or treatments.
In Toxic Thinking, you'll find tools and techniques backed by research to start you on your journey towards self-help. You'll discover:
Baby Steps: 5 DIY ways to silence the harsh inner critic
In-depth yet simple guidance to understanding and identifying the 4 types of negative self-talk

straight from the psychologists' handbook

The steps you need to take to break toxic thoughts and finally find inner peace
Get to know how psychologists do it: Explore Cognitive Behavioral Therapy (CBT) and its benefits without breaking a sweat
A number of CBT techniques to control negative thoughts, including examples
4 ways to transform negative self-talk into meaningful conversations with yourself
The habits you need to break right now in order to control negative thoughts
How to improve confidence and self-esteem—the author's definitive guide to building positive habits
Challenge Your Mind: 2 easy exercises to build the habit of positive thinking
Two Bonus Exercises—Chart your thoughts in 5 minutes; reduce stress and anxiety
And much more.
Toxic thinking is quite common in all age groups and genders. Most of the time, we don't even realize what we are going through, and it can become difficult to talk about and explain how we feel.
K. C. Myler knows exactly what you're experiencing—she's lived it, fought it—and now she wants to share her knowledge in this easy-to-understand, relatable guide: tried, tested and practical ways to get you out of your negative headspace.
You deserve a better life, and the way towards it is in the palm of your hands.
Genre: Non-Fiction, Selfhelp
Toxic Thinking – 5 Simple Ways To Take Control of Your Thoughts & Emotions by K.C. Myler