No Comments
Three Free Nonfiction Kindle Books this Monday!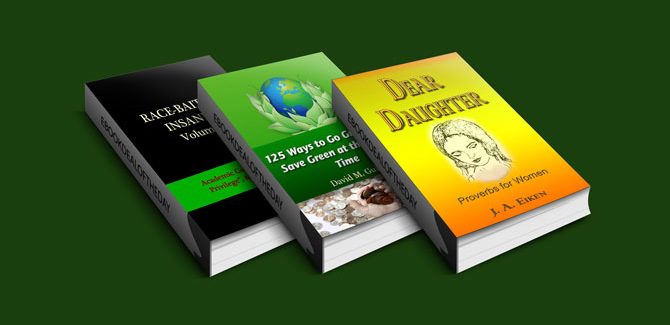 "125 Ways to Go Green and Save Green at the Same Time" by David M. Guion
[/lightbox]
Amazon
[/one_third_last]
"Race-Baiting Insanity: Academic Goals, "White Privilege", & The NRA (Race-Baiting Insanity Series #7)" by D. Lee
In the history of the United States, race has been an ongoing issue that we have wrestled with. Most everyone agrees that racism is bad and needs to be addressed whenever it appears. What is unfortunate is that liberals/Democrats, sometimes referred to as the Left, while they give lip service to combating racism, actually use race to bludgeon their opponents and make them out to be racist. As will be illustrated in this volume and the whole of the series, it is those on the Left who are racist, or think racism exists when there is none.
This volume expands on the shameless racial issues in schools and shines a light on how an entire school system is using race in student academic goals, how Mitt Romney (and by extension his wife Ann, and probably his children) is only successful because of "white privilege", and how a sports reporter, while capitalizing on an NFL player's murder/suicide for personal gain and exposure, managed to label the National Rifle Association as the "new KKK".
"Dear Daughter" by John Eiken
Dear Daughter" – A significant and timely
letter to women of all ages.
"Dear Daughter" is intended to provide meditative reading
for the woman who wishes assistance and information to
combat societal pressures.
The role of the female today is being threatened from all sides.
This electronic publication can help any woman maintain her own
self image at a dignified level and assist her in retaining a respectable
place in society.
Parents will especially want this book for their daughters benefit,
husbands for their wives, and women for themselves.