No Comments
Three Free Kindle Books this Monday!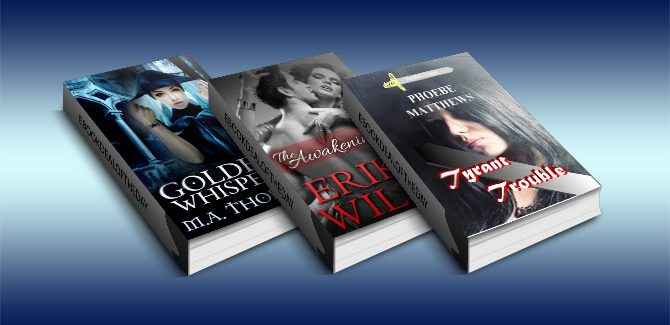 "Golden Whispers (vampire romance retelling of the Frog Prince) (Golden Erotic Tales, #1)" by M.A. Thomas
Genre: Erotic Romance
NOTE: JUST ONE GOLDEN KISS has now been released and contains all of the
episodes in the Golden Erotic Tales Series as a complete novel. Fallen Kisses, the complete short novel sequel to Just One Golden Kiss is also now available.
Golden Whispers, the first episode in the Golden Erotic Tales Series, is a short, sweet, light erotic romance retelling of the Frog Prince with a vampire twist. It is fast paced at approximately 7,450 words.
When twenty-year-old Lela encounters a golden ball in the forest, she falls into a well. A frog agrees to save her but only if she agrees to give him whatever he desires. And what he desires is her. From the moment the frog pulls her out of the well, Lela's life is forever changed and she embarks on a sexual journey filled with passion and love during which she also uncovers the secrets of her past.
Continue following Eldrich and Lela's love story in Golden Shadows, episode two, Golden Secrets, episode three, Golden Desires, episode four, Golden Instincts, episode five, and Golden Truth, episode six.
Golden Whispers is for mature audiences only.
"THE AWAKENING (The Marriage Diaries, Volume 1)" by Erika Wilde
Genre: Sexy Contemporary
(Originally published as Janelle Denison)
Erika Wilde turns up the heat in THE MARRIAGE DIARIES, a brand new erotic series about a married couple who take intimacy and passion to the extreme.
This short novelette of 11,000 words contains two short erotic interludes between married couple Dean and Jillian Noble. WARNING: Contains explicit sexual content and is recommended for mature readers who enjoy erotic situations, as well as graphic language and imagery.
"Tyrant Trouble" by Phoebe Matthews
Genre: Urban Fantasy, Fantasy
Claire flees from a Seattle crook to an Otherworld barbarian tyrant. Not a whole lot of improvement there. One threatens with a gun, the other swings a broadsword.
This novel won the EPPIE for Best Fantasy of the Year.