No Comments
Three Free Historical Romance Kindle Books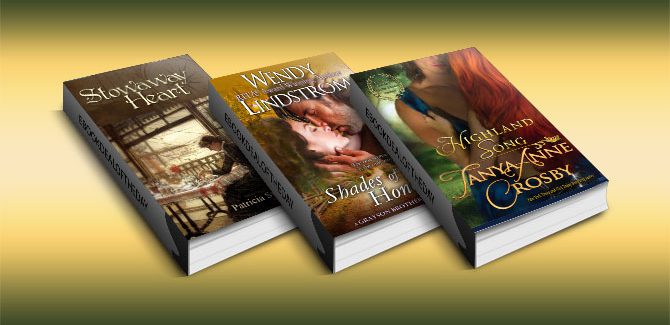 "StowAway Heart" by Patricia Strefling
Genre: Historical Romance
Francine Louise Devin hovers on a dark dock in Devon, England. Fifteen and alone she huddles in the night — she must be on the last ship to France before the snow flies. Frannie does the unthinkable and sneaks aboard The Antonia, becoming a stowaway. She must get to Aunt Matilda, her only living relative.
Almost immediately she is discovered by Captain Caldwell who hides her in his cabin. He leaves Frannie with his lady friend in the harbor town of Brest, with a promise to return and take her to Aunt Matilda.
Times passes and she still hopes, but the Captain's woman hates her and trouble arises. If Captain Caldwell does not come, she will be forced to make her way alone.
Can God provide a way? She believes but too many circumstances nearly undo her plans leaving Frannie to wonder if she will ever feel safe or loved again.
"Shades of Honor (Grayson Brothers)" by Wendy Lindstrom
Genre: Historical Romance
Everything Radford Grayson wanted was in his hometown: his beloved mother and brothers, and the unscarred part of himself he'd left behind. After surviving a gruesome war, all Radford wants is to work the family sawmill and make a real home for his young daughter. But Evelyn–his brother's fiancée–reaches into his darkness with her healing love and makes him feel whole again for the first time in years. Torn between his unexpected and forbidden love for Evelyn and a desperate need to honor and protect his brother, Radford discovers that his fiercest enemy is his own heart. The one woman he cannot have is the only woman he wants.
"Highland Song (A Highland Brides Novella)" by Tanya Anne Crosby
Genre: Historical Romance
This version of Highland Song includes exclusive content — three full chapters of Highland Steel, book one of Tanya Anne Crosby's upcoming Scottish Historical Romance Series, The Guardians of the Stone.
This novella is also part of the Highland Brides series.
Gavin Mac Brodie fears the thought of becoming the man his father was. Driven into solitude by visions of what he would not be and could not have, he vows never to wed. But this last of the available Brodie men is about to encounter a wee bit of Highland magic…
Catrìona is no stranger to solitude. Driven deep into the Highland mountains, her kinsmen have become little more than legend. But no one knows better than Cat that you cannot hide from fate. Naked and painted in the woad of her ancestors, she appears to Gavin Mac Brodie …
But is she flesh and blood–a chance for a future–or just a faerie creature who will vanish if Gavin dares to open his heart?