No Comments
Three Free Fantasy Kindle Books for your Weekend GetAway!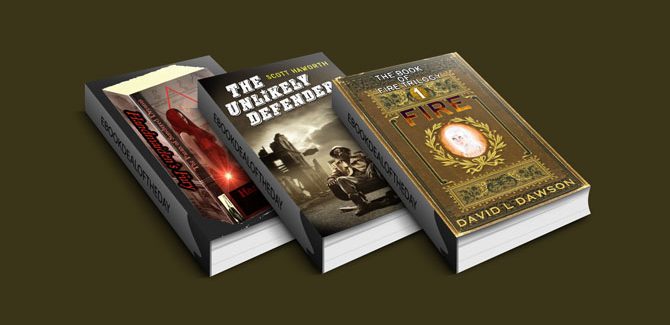 Three Free Fantasy Kindle Books for your Weekend GetAway!
Free 'til 2/24! "The Unlikely Defenders" by Scott Haworth
What do a womanizer, terrorist, disgraced naval officer and convicted sex offender have in common? They are not typically thought of as the good guys. The Unlikely Defenders follows a large cast of characters as they struggle against both an alien invasion and their personal demons.
Through their stories a greater tale is told about an attack on Earth by a species known as the Kessiams. The insects swarm over the entire planet and affect the lives of every human being. Heroes are not enough to defeat the enemy. If humanity is to survive it will need the help of society's outcasts as well.
"Free 'til 2/23 "Fire (The Book of Fire Trilogy)" by David L. Dawson
A planet populated by enchanters.
A magical book.
A cabal of shadow beings.
An assassin that turns people to stone.
Welcome to the magical world of Cressida Widdershins…
"Fire" is the first in "The Book of Fire Trilogy", a series of fantasy adventure novels aimed at children aged ten and above, but like Harry Potter can be enjoyed by adults too.
"Free 'til 2/24 "Handmaiden's Fury (The Paean of Sundered Dreams)" by Irrational Words
This is a Fantasy Romance Irrational Tale.
_____________________
Her body, her breasts, her mouth, – None of them belong to her.
Keiri is a Handmaiden of Rydia, one of the Priestess/Temple whores devoted to the Goddess of Passion and Lust. As such, she is a slave to desires which can at times overwhelm her, even as they provide her with strange powers.
Her body is a tool for her Goddess, to be used for the pleasure and temptations of others. In this novella, Keiri services one of the most powerful and dangerous men she knows, all the while seeking a dangerous secret. He leaves her hungry for more- a deep hunger that can only be satisfied by the tawse of her master, Sire Mattias.
But Keiri stumbles into darkness she never knew was there. Strange assassins pursue her on the streets, and soon, they seem to be seeking her out. What are these strange, inhuman creatures who seem immune to her Goddess' gifts? And what do they want with her?
Now, Keiri and her enigmatic master must delve into secrets which span half a continent. But can they do so while remaining true to their vows to serve their goddess-without giving in to forbidden desire?