No Comments
The Everson Brothers: Complete Series by Olivia Arran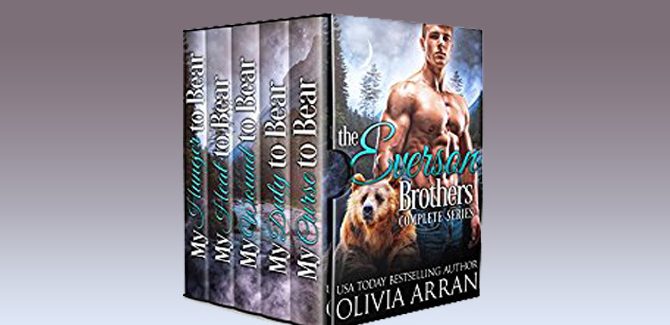 Realtime Price – ERR
Family. Heartache. Friendship. Mating. True love. The Everson brothers are back home and ready to claim their mates…
All 5 Everson Brothers books in one volume! Save money off the entire series when you buy this bundle!
My Curse to Bear
Merrie Havencroft hasn't got time for men. She's too busy trying to run her shop and prove to herself, and her family, that she is not a failure as a witch.
Bear shifter Craig Everson knows all about feeling inadequate. Years ago, he broke a witch's heart and got himself cursed. He can never be happy in a relationship again … not until he finds his true mate. When Craig bumps into curvy Merrie, his passion ignites. His bear is certain she's their mate. Theirs to claim, to bring to the heights of pleasure, to cherish and protect. Craig knows he wants her with every inch of his being, but can he ever trust another witch?
My Duty to Bear
Amy Taylor is living a lie. On the run from her abuser, she lives one day at a time. She doesn't have time for romance, and definitely not for the hot-as-hell Sheriff who's sniffing around.
Bear shifter Ryan Everson is the Sheriff based in Craggstone Town. It's his job to know everything that's going on, and to deal with any trouble—especially troubled strangers, no matter how gorgeous they are. When Ryan runs into curvy Amy, he knows immediately that she is his mate—she is the only one his bear, and his heart, desires. But first he has a little detecting to do…and a little seducing.
My Wound to Bear
Gina is a survivor. After years of captivity she's now free, her child has been returned to her, and she owes her new pack everything. She needs to be strong for her daughter, to look to the future. After all, she's a human living in a world full of shifters—strength is everything. But how can she survive when she's broken inside?
Doctor Jack Everson is home at last, and this time it's for good. He's tired of living life alone with no mate to complete him. When duties take him up to the Smithrock wolf pack, the last thing he expects is to run smack bang into his true mate in his home town. Gorgeous, with curves to die for, she's everything this bear shifter ever dreamed of. So, instead of pinning her against the wall and staking his claim, he offers her a job. His brothers think he's an idiot. Hell, he thinks he's an idiot. But her eyes are haunted by the past…and he's praying for a holiday miracle.
My Heat to Bear
The day Fire Chief Max Everson strolled into Jeanie's life she knew she had a battle on her hands. Ripped and handsome, he didn't seem the type to take no for an answer, but she had told him the truth when she said she wasn't looking for that kind of thing. No flirting or kissing, and most definitely not a fling. She'd been burned before, lost someone she loved, and she wasn't risking her heart again.
They say he has a savior complex, and that's what Max is telling himself when he looks at Jeanie, with her big brown eyes and curves that have him fighting to draw breath. She needs saving and he's a sucker for a sad smile. Then his bear claims she's his true mate and Max's life gets a lot more complicated.
My Hunger to Bear
Bear Shifter Ralph Everson escaped the hectic pace of the city and returned to his roots in Craggstone Town, but not before he managed to screw up his life and hurt the only woman he's ever loved—his unclaimed true mate, Connie. He waits for her to forgive him. Watches over her and keeps her safe. He still loves her and will do anything to win her back.
Connie spent years putting her life back together after Ralph Everson almost destroyed it, throwing all her energy into ignoring the tall, sinfully handsome man who refuses to leave her alone. Even the memories of his kisses have been banished and locked away. Then, when disaster strikes and he's the one who saves her, she has a decision to make. Does she believe in second chances?
Genre: Paranormal Romance
The Everson Brothers: Complete Series by Olivia Arran