No Comments
The Carneys Collection by Sophie Austin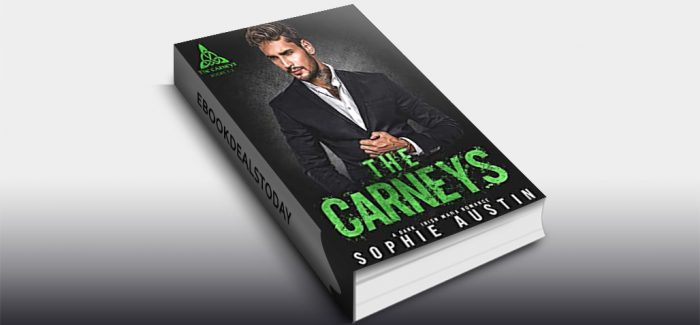 Realtime Price – $9.99
Get lost in the dark, dangerous, and delicious world of The Carneys. Join Boston's richest crime family as they build the glittering Trinity casino and destroy their enemies along the way. The Carney men aren't afraid to get their hands dirty as they claim the women they desire. Finn, Patrick and Giovanni will leave you aching for more.
The Carney Collection includes over 200,000 words introducing you to the delectable Carney family and their unforgettable, steamy adventures. This collection includes THREE complete books (books 1 – 3) in a six-book series.
The collection features:
Rake
Finn will stop at nothing to protect his family, and that includes taking down naive-yet-determined union organizer Sasha. But when this innocent beauty brings Boston's smartest playboy to his knees, can this enemies-to-lovers pair find their way to lasting redemption?
Grift
After a scandal forces tough guy Patrick into an arranged marriage with Jessica, a senator's daughter, he's determined to protect her at any cost. But as he unravels the mystery behind the scandal and commits to destroying anyone who has caused his bride pain, one question remains: How will he ever be able to let her go?
Wild Card
Mafia princess Catriona is beauty, defiance, and sass incarnate. When a rival mafia family kidnaps her to punish the Carneys, they'll stop at nothing to get what they want. Yet Giovanni DeLuca finds his loyalties tested against the wild Irish beauty's charms. Can an enduring love rise from the ashes of their families' hatred?
Enjoy the The Carney's Collection. Click buy now to escape into their world today.
Genre: Romance
The Carneys Collection: A Boston Irish Dark Mafia Romance by Sophie Austin