No Comments
Filthy Doctor: A Bad Boy Medical Romance by Amy Brent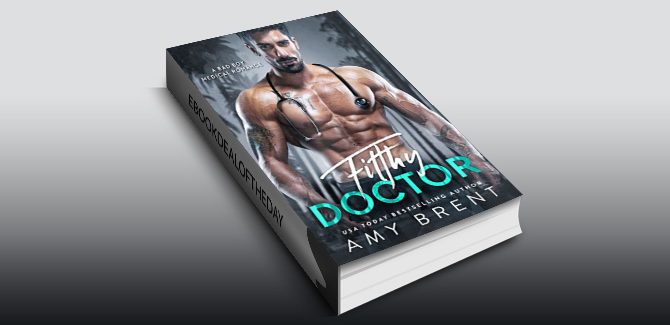 Realtime Pricing:N/A

The doctor will see you now… EVERY INCH of you.T
I'm a world-renowned cardiologist, but breaking hearts is what I do best.
Women line up for a turn between my Egyptian cotton sheets, making it difficult for me to limit my services to just one.
Well, you can't really blame them.
Because I work hard, REALLY HARD!
With these movie star looks and hands that can work magic – both in the clinic and in the bed, I can make a woman come by just looking at her.
And who wouldn't care about a bank account almost as sizeable as the surgical instrument between my legs.
Life seems to be awesome.
And then Lucy walks back into my world.
We were HOT lovers in high school – and I can remember the night I took her V card.
Now she's back, as the producer of my TV show.
My brain tells me to stop.
But one look into her sultry blue eyes and I wanna go DEEP!
I've learned so many new talents since our last night together,
That I am willing to teach her.
I'm so ready to be her FILTHY DOCTOR.
Her delicious curves tempt me to take her.
I want to own that voluptuous body.
But doing so would mean risking her career and breaking my biggest rule: Never fall in love.
Filthy Doctor is a standalone novel with no cliffhanger and no cheating. It's a sizzling hot read with a very high heat level. It is a second chance romance that features a billionaire bad boy alpha male and a feisty BBW who earn their happily ever after. It includes bonus content as well as super steamy Deleted Scenes for your continued reading pleasure.
Genre: Contemporary Romance