No Comments
Silver Fox by Tatum West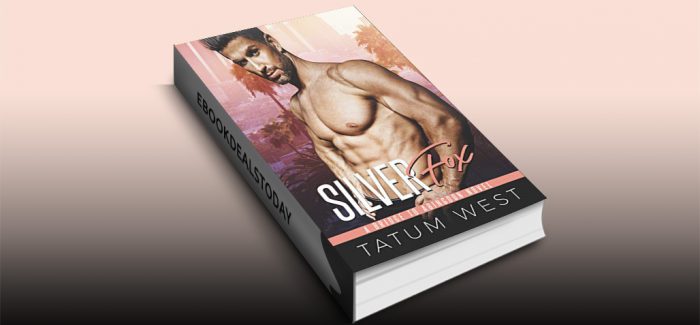 Realtime Price – $4.99
Nikki:
I left for Cali the night of my graduation with nothing but a pink boa, a pair of strappy gold heels, and my silver eyeshadow from Sally Beauty Supply. I sang for pennies on Hollywood Boulevard in my broke and desperate days. Now at twenty-six, I've got more Grammys than Madonna and a growing empire.
Fame was everything I expected and nothing that I ever wanted. At the end of the day I'm on my own, with an overbearing manager and security team as my only friends. I made this life, and now I live in it alone.
When a stalker starts following me, and the paparazzi ambush me outside of a nightclub, I'm at my breaking point. That's when Fox Lee appears—out of nowhere—tall and gorgeous with salt-and-pepper hair and a wicked smile that shakes me to my core.
He takes my hand and sweeps me away from the flashing lights and screaming fans. He even keeps me safe when the stalker shows up at my house the next day.
I'd wrap myself up in Fox Lee and never come up for air.
But he doesn't want me. He just wants to be my lawyer.
Fox:
Nikki Rippon is the most fascinating man I've met in years, and I count Robert De Niro as a close friend. I'd like to save Nikki—and savor his cherry pink lips. But I need to keep things cool and professional, even if he's the smartest, funniest, and sexiest man in my contacts list. He's at least a decade too young for me, and he needs legal representation against the hellions taking advantage of him—not a boyfriend.
When he invites me up to his place, I almost cave. Every minute I spend with him, I fall deeper and deeper. He can make a Lakers jersey look like couture or rock a Prada polo with Jimmy Choo heels. He's infinitely loyal, utterly hilarious, and more talented than any other musician who's walked through my doors.
Ever since my parents kicked me out at seventeen for being a little too queer, I haven't let anyone in. I don't do relationships, especially not with glam pop stars with a closet full of Gucci. But Nikki's wearing me down, bit by bit. He's staying at my place, taking us on dates I never expected. And we even manage to escape to my beach home on the East Coast without a single fan noticing—almost.
Just when things seem perfect, the ghosts of Nikki's past start to close in on us, threatening the life we're creating together. It turns out that when you're spending your nights with the world's biggest pop star, people can get a little …jealous.
I'd convinced myself Nikki needed a knight in shining armor. But when I find myself trapped in the trunk of a moving car, my hands tied and my mouth gagged, it all becomes crystal clear: Nikki is the savior I always needed. And the only man I've ever loved.
Silver Fox is the fourth book in the Bridge to Abingdon series. Each book focuses on one amazing couple, and each can be read as a total standalone. Fox and Nikki have more steam than any other couple in the series! There's also a bodyguard bestie, a closet full of Prada, and an unforgettable night under the stars. Add a swirl of mystery, a secret boat trip down the coast, and a twist you won't see coming… and you've got Silver Fox. Nikki Rippon and Fox Lee are the soul of Abingdon, and they start off the story of Abingdon with a BANG.
Genre: LGBT, Romance
Silver Fox (Bridge to Abingdon Book 4) by Tatum West