No Comments
Income OnDemand by MW Laird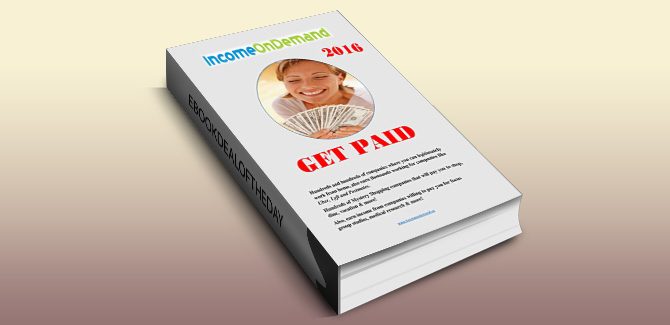 Realtime Pricing: Amzn: $2.99

Income OnDemand is a resource directory guide that will pay for itself instantly!
A directory listed with hundreds and hundreds of companies where you can legitimately work from home, also earn thousands working for companies like Uber, Lyft and Postmates.
Hundreds of Mystery Shopping companies that will pay you to shop, dine, vacation & more!
Also, earn income from companies willing to pay you for focus group studies, medical research & more! This is a resource packed guide that will pay for itself instantly!
Earning income on demand has become easier in our fast paced world. Many companies have sprouted up offering everyday people to earn income using their own cars, bicycles, computers, smartphones and just about anything else that you can think of!
This eBook makes it easy for you to have access to hundreds of companies willing to pay you for your time and services.
Each section is industry specific and has hundreds of REAL LEGITIMATE companies where you can earn income, and or work for.
You won't find here any envelope stuffing companies, Pyramid Scheme companies, companies that ask you to bug your family and friends, commission only companies or anything similar!
Only REAL established companies are listed here!
Go through this eBook and find your opportunity to earn as much as you will allow yourself to!
Genre: Selfhelp, Nonfiction