No Comments
Second Chance Romances Box Set by Mona Ingram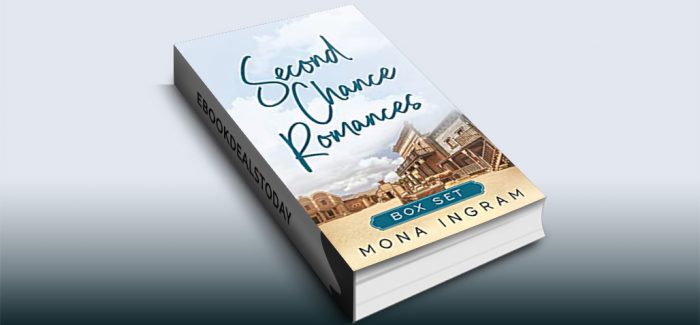 Realtime Price – $9.99
This series features all five books in the series. The Prequel is included with Lianne, and is a short introduction to each woman and her circumstances.
Lianne:
A holiday romance is the last thing on her mind.
Haunted by her husband's death, Lianne visits the spectacular Cornwall coast of England. She has no intention of falling in love again, until she meets a local man. Their attraction is mutual, but when he unexpectedly disappears she returns home, brokenhearted once more. However memories of those golden days linger, igniting her desire to love again.
Madison:
In Hollywood, people often aren't who they seem…
On the verge of breaking out in Hollywood, Maddie Lamont discovers the hard way that some people will do anything to save their career. Broken-hearted and disillusioned she returns to her hometown of Chance, where along with her friends she seizes the opportunity to revitalize the dying town. Can reclusive author Dylan Hawkins make her believe that he is worth a second chance at love?
Emma:
How do you survive the greatest tragedy of all?
When Emma's perfect life turns into a nightmare beyond her control she withdraws into herself, eventually quitting her high profile job in San Francisco and returning to Chance. But back in her home town, Emma discovers that she's not the only one who has suffered loss. As she quietly helps those in need of her expertise, she finds that life is still worth living, and that love was right here all along.
Jade:
Jade knows better than to fall for a movie star…
An accomplished hair and makeup technician, Jade meets Zach Crawford on a movie set in Chance, California. When a former girlfriend wrongly accuses Zach of misconduct, she agrees to pose as his new girlfriend, but nothing goes as planned. Jade and her broken heart return to Chance, where she finds solace in helping to save the town that welcomed her not that long ago. But Zach has other ideas and vows to regain her trust… and her love.
Chloe:
How did she arrive such a low point in her life?
Being the wife of a wealthy man is no substitute for the fulfilment Chloe found as a nurse. When her husband dies, her life spirals out of control.
Called to Chance to support her friend Madison, she meets a man who could make her believe again but she's afraid that if he gets to know her secrets, he'll see the darkness in her soul. Harboring secrets of his own, Lane sees past the barriers she puts up and shows her that love always finds a way.

Genre: Romance
Second Chance Romances Box Set (Second Chances Series) by Mona Ingram