No Comments
$2.99 "Christmas Romance 3-Pack" by J.E. Zavada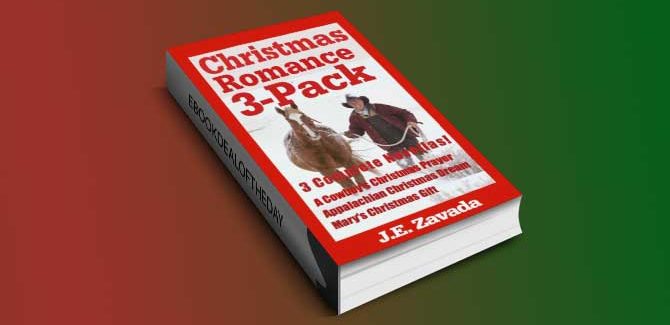 Ebook Deal of the Day:

$2.99 "Christmas Romance 3-Pack" by J.E. Zavada
Genre: Romantic Fiction
Christmas Romance 3 Pack includes three fast-paced short novels featuring strong single women, each story on a Christmas theme.
A COWBOY'S CHRISTMAS PRAYER
Young widow Gretchen Norgard struggles to keep from losing her cafe to a predatory businessman on the Kansas frontier in the 1880s. When broken-down cowboy Pete Beckworth stumbles into her life, Gretchen begins to find hope, and realizes there is much more to this rugged drifter than meets the eye.
APPALACHIAN CHRISTMAS DREAM
Junie Corban is a single school teacher in the pre-World War I coal patch town of Mission Creek, Kentucky. Her dream is to start a Moonlight School to teach the illiterates of the area to read and write. But when Junie's handsome mining engineer sweetheart is blamed for a fatal cave-in, she fears it will take a miracle for things to turn out right.

MARY'S CHRISTMAS GIFT
This modern story set in Chicago stars Mary Chapman, a 34 year-old single executive, pregnant and alone at Christmas time. As Mary copes with office politics and the upcoming birth of her baby, an angelic old man appears each time she has a crisis, leading her to the love she's always longed for.