No Comments
$0.99 "Baby for the Billionaire (2 Stories in 1)" by Judy Angelo, Shadonna Richards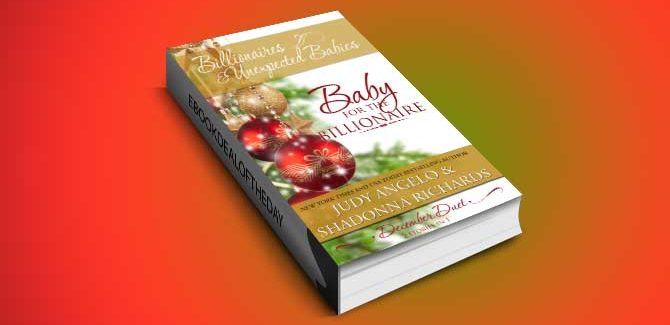 Ebook Deal of the Day:

$0.99 "Baby for the Billionaire (2 Stories in 1)" by Judy Angelo, Shadonna Richards
Genre: Romance
DADDY BY DECEMBER By Judy Angelo
A Daddy in the making…
A little girl, a wish, and a woman determined to stay out of his reach. How to reconcile the three?
Billionaire investor, Drake Duncan, is at the top of his game. He decides to hire a ghostwriter to work on his memoir. Little does he know that the writer who will answer the call is truly a ghost – from his past.
Meg Gracey is the proverbial 'starving artist', a writer down on her luck. When she is offered a contract as ghostwriter she jumps at the chance, only to later realize that the job will throw her directly in the path of the man she vowed never to 'touch with a long stick'. Caught between starvation and emotional torture she is forced to choose.
Does she follow reason or give in to the desires of her heart?
AN UNEXPECTED BABY By Shadonna Richards
Getting a man is one thing…keeping him is a whole different story!
Recently wed to her hot boss, CEO Evan Fletcher, Emma Wiggins-Fletcher thinks her sizzling hubby is avoiding spending quality time with her…that is until Emma discovers that her pregnancy test is positive.
A baby changes everything. Jetsetter Evan discovers his new wife is pregnant and cancels an important business trip and prepares to rearrange his workaholic life to pamper his newlywed princess. Emma is over the moon about the new special affection from her spouse and her ill grandfather. Gramps has been given six more months to live, and he is so delighted about the baby news, he plans a surprise for the couple.
Too bad her world is turned upside down when she discovers the pregnancy test was false. Emma has been enjoying Evan's renewed attention and he's already shifted his life around to be daddy to their unborn. How could she possibly break the news to her husband and to her ailing grandfather without breaking their hearts? Still, pretending to be pregnant is a whole different story and can only last so long before they find out the truth.