No Comments
Scandalous Heroes Boxed Set by Sienna Mynx, Yvette Hines, Bridget Midway.. et al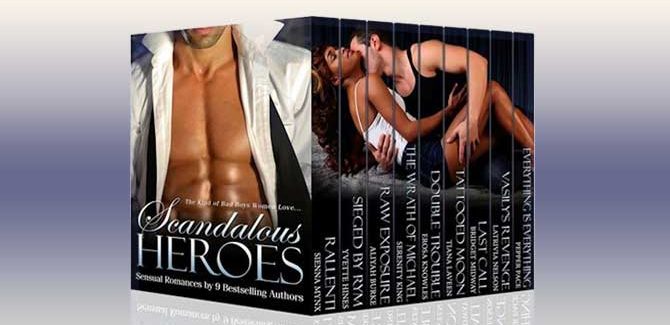 Realtime Pricing:N/A
ALPHAS, SHIFTERS, DOMS, BILLIONAIRES, BLUE COLLAR HUNKS AND URBAN HEROES: 9 BEST SELLING AUTHORS OF SENSUAL ROMANCE. SCANDALOUS HEROES COLLECTION GIVES READER THE KIND OF BAD BOYS WOMEN LOVE–This collection includes best sellers of USA Today and Amazon Top 100 Authors whose stories reflect the diversity of romance such as contemporary, mafia drama, urban lit, BDSM to paranormal and sci-fi. These authors have taken the time to pen new full length and original stories for the readers only found in this collection for a limited time. Collection stats: 1,857 pages/485,737 word count. Total retail value: $35.91.
LADIES COME GET YOUR MEN! 18+
RALLENTI ~ Sienna Mynx (Amazon Bestseller)
"One word. You must learn it, before we begin," he traced his finger now across the outline of her lip. "Say it with me. Rallenti." – Renaldo Cracchiolo
SEIGED BY RYM ~ Yvette Hines (USA Today Bestseller)
They picked the wrong warrior cat to abduct. Rym never liked being ordered about so when he discovers his freedom is weighed against his agreement to breed with Krysteena, he practically purrs at the chance to prove to the beauty who's truly in charge and escape.
RAW EXPOSURE ~ Aliyah Burke (USA Today Bestseller)
A wealthy playboy and a down-to-earth freelance photographer, will they ever see eye to eye?
VASLIY'S REVENGE ~ Latrivia Nelson (National Bestseller)
Will changing everything in his life, give him new lust for it? And can he trust a woman who was the cause of his near death before?
DOUBLE TROUBLE- Men of 3X CONStruction~ Erosa Knowles (Amazon Bestseller)
Blaine and Donald had no idea they have not one, but two sons from Belinda, the one woman who ever came between them. Seeing her again test family ties as they fight to rescue their son and reclaim the only woman they ever loved.
TATTOOED MOON ~ Tiana Laveen (Amazon Bestseller)
Little does Milan know, Julian draws more than just her attention and skilled designs upon her body. As his needle works its way into both their hearts, they find fulfillment and healing in ways neither of them imagined.
EVERYTHING IS EVERYTHING ~ Pepper Pace (Amazon Bestseller, Top 100 Fiction Author)

In1977 Vanessa is 12 years old and lives just out of reach of the projects that both scare and entice her. Scotty is learning something as well; that his path has not been laid out before him and that Everything isn't necessarily Everything. This 2 part series begins in the 70s where it explores the music, the style, the ghetto and Pepper Pace's own twist on life and love.
LAST CALL ~Bridget Midway (Amazon Bestseller)
When Tank tries to rekindle the relationship with Eminence, she has to wonder what's important: her dream or her heart
THE WRATH OF MICHAEL ~ Serenity King
Will they be able to find shelter in each other's arms, or will the demons of both the past and the present keep them apart forever?
Genre: Anthology, Contemporary Romance, Anthologies & Collections