No Comments
Rogue Star Series by Elin Wyn & Ava York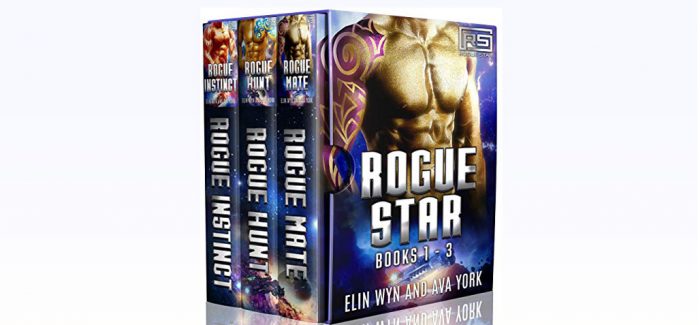 Realtime Price – $6.99
Don't miss the first three books of the sexy science fiction adventure romance series, Rogue Star, now in one volume!
A fast paced romance adventure that spans the stars, when a group of human woman are thrown into the path of an alien crew of… let's say cargo shippers that don't always have their paperwork, shall we?
With every book, the tension heightens, and another pair of alpha heroes and their kickass mates find their HEA.
Romance is the destination of the Rogue Star… come on aboard!
Rogue Mate
I'm not usually into surprises, but I might make one, gorgeous golden exception…
Before I even had the chance to move into my office as the new, if unwilling, commander of Persephone Station, the entire complex is destroyed in a freak accident.
Or an attack.
No one knows, or is admitting anything.
Our rescuers are a group of pirates. Or smugglers. They're not exactly answering questions, either.
More importantly, they're giant, golden skinned aliens…
And their rogue of a captain seems very interested in the little human commander.
Me.
Rogue Hunt
If surly, growly Aavat didn't want to help, all he had to do was shrug those broad, bronze shoulders.
Surely there'd be nothing one little human could do to encourage him, right?
I just wanted to save the cute little critter…
Cute, little alien critter, but still.
It needed my help getting out of that awful cage.
How was I supposed to know how much trouble it would lead to?
Rogue Instinct
People aren't my strong suit. Give me an engine, anyday — even on a spaceship.
And when a giant, sexy bronze-skinned alien decides I'm not good enough to work on his baby?
Game on. Even if he does have talented, broad hands.
I just hadn't figured Orrin and I would be working together quite so closely…
And when danger threatens the crew of the Rogue Star, we'll have to put everything on the line.
Rogue Star is a steamy science fiction romance adventure series with an over-arcing plot that runs through the books. Each book features a different couple, with no cheating and a guaranteed HEA!
Genre: Science Fiction, Romance
Rogue Star Series (Books 1 – 3): Rogue Mate, Rogue Hunt, Rogue Instinct by Elin Wyn & Ava York