No Comments
Rockford Falls Romance by Natasha L. Black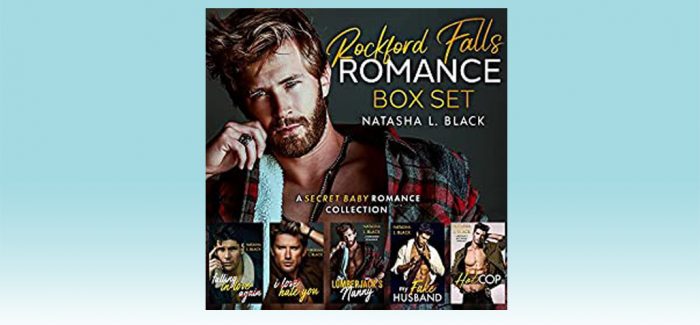 Realtime Price – $0.99
Welcome to Rockford Falls with its small town charm and smoking hot men. Snuggle up and enjoy these five sexy alphas and the women that steal their hearts. I guarantee you won't be disappointed.
Book One: Hot Cop
Laura's a big city cop, home to take care of her dad.
She's my best friend's baby sister AKA forbidden territory.
All grown up.
Lush curves.
Smart mouth.
Everything I can't resist.
Whatever I have to do,
I'm going to keep her reckless, gorgeous ass safe.
Then I'll never let her go.
Book Two: My Fake Husband
Our close quarters are combustible.
Flirting turns sexy.
I've got a bad crush on my wife.
Danger lights the fuse that smolders between us.
Fake married friends with benefits?
You could say it's complicated.
So what happens when you really fall in love?
All I know is that I'm keeping her for good.
Book Three: The Lumberjack's Nanny
It's a perfect deal:
1. Follow his (overprotective) rules.
2. Take good care of Sadie.
3. Walk away at the end of the summer.
No problem!
Right?
There's a big problem.
I caught feelings for Max, the sexy lumberjack dad.
Flirting turned into a secret affair.
Now I'm carrying around more than a broken heart. I have a little secret that's Max's and mine.
Book Four: I Hate You
We hate each other, but I can't keep my hands off her.
She's mouthy, infuriating, and smoking hot.
This job is nothing but trouble.
And it's about to get so much worse.
Dangerous sabotage at the site puts Nicole's life in danger.
I'll do anything to keep her safe.
Especially when I find out she's not the only one I'm fighting for.
This hard-core bachelor is about to get everything I never knew I wanted.
Book Five: Falling in Love Again
A bad storm leaves us stranded together.
Who knew that a rekindled romance from high school.
Could end up as what I want for the rest of my life?
But now she's the one pushing me away.
She won't talk to me.
She doesn't trust me.
It's like losing her all over again.
This time, I won't run away.
This time I'm fighting for what's always been mine.
The Rockford Falls Romance is a collection of FIVE scandalous standalone romance novels. Each one guarantees no cliffhangers or cheating, so you can enjoy every word to its maximum pleasure. To top it off, a unique HEA to make your heart swell. Enjoy reading! – Natasha L. Black
Genre: Romance
Rockford Falls Romance: A Secret Baby Romance Collection by Natasha L. Black