No Comments
Ribbons of Death by Edita A. Petrick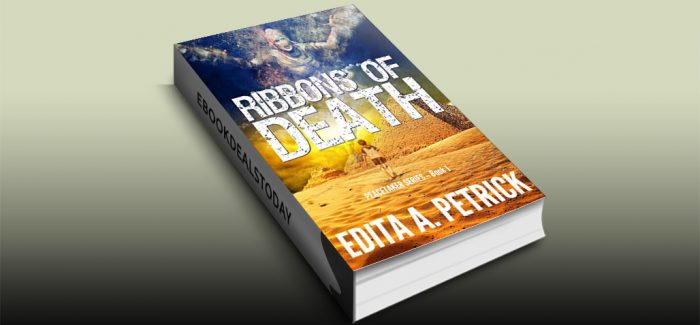 Admin | On November 12, 2019
Realtime Price – $0.99
A supernatural catalyst for death rises from an ancient myth. Can a federal agent and a medieval scholar stop its terror before it spreads across the US?
Only a miracle allowed federal agent Timothy Carter to survive the terror of an Egyptian demonstration that turned into a bloody riot. It was only the first of many such horrors. Now he has an assignment: Stop the identical riots spreading across the US, no matter what it takes. As an ex-soldier, only one way makes sense for him. Find the person … or thing … causing these senseless riots and take it out.
Stella Hunter was forced out of the academia because of her work tying obscure myths and mythological events, together across all global cultures. Only one person had believed her, and his theories were even more far-fetched than hers. Now the Egyptologist, Dr. Fineas Gahiji is dead in a suspicious Cairo traffic accident and Carter is on her doorstep waiting for answers.
As a terrorist that the ancient records identify only as the Peacetaker, orchestrates vengeance using a mythological being, Stella and Carter seek to end this threat to the US in this high-stakes thriller before he or it rips the nation apart.
Ribbons of Death is the first book in the Peacetaker series. If you like pulse-pounding action and mythological thrillers similar to Dan Brown and National Treasure, you'll love this first Peacetaker tale.
Buy Ribbons of Death and begin this page-turner right now!
Genre: Suspense, Thriller
Ribbons of Death (Peacetaker Series, Book 1) by Edita A. Petrick