No Comments
The Crush Saga Box Set by Chrissy Peebles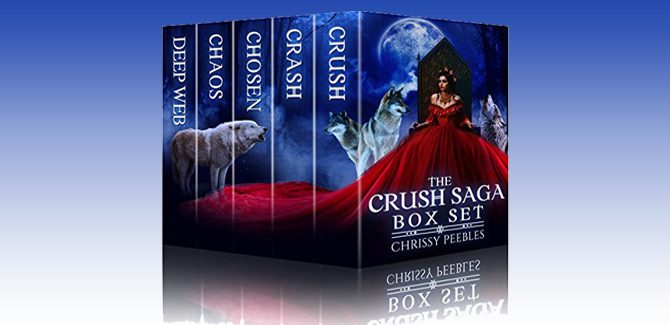 Realtime Pricing:$0.99

I was born to die… But to defy fate is to control your own destiny. Little did I know that I was entering a world of ritual and magic and that my blood needed to be spilled so the witches' legacy could be complete.
Vampires. Witches. Werewolves. Supernatural Creatures. Dramatic Revelations. A Ritual Sacrifice. Ancient Artifacts. A Cold-hearted Serial Killer. Spilled Blood. Secrets. A Hidden Heritage. A Love So Deep. Supernatural Bloodlust. A Dangerous Curse. An Uneasy Alliance With A Dangerous Vampire.
***99 Cent Sale!*** November 16th, 2016 – November 19th, 2016 (ONE TIME ONLY)
The Crush Saga Box Set is going on sale! Get the first 5 books for 99 cents! Limited Time Only! It will never be offered for 99 cents ever again! This will go back to the original price soon. Get your copy now! Over 367,261 words! Buying them individually would cost you $15
Legends of vampires and shape-shifters have been around for centuries, so Taylor Sparks isn't too worried when the rumors start to fly. When Taylor learns secrets that are beyond terrifying, they threaten to destroy her entire world. She is born to die… But to defy fate is to control your own destiny.
She warns her crush to leave. But how do you forget someone who is aligned with your soul? They fight against the witches, the vampires, and the werewolves. They know the consequences. They know the risk. But they don't care. Nothing will get in the way of these two star-crossed lovers.
Taylor finds out she's a KEY player in a dangerous game created 1,000 years ago that will give the witches and werewolves the upper hand against the vampires. Blood will be spilled and secrets will be revealed in this action-packed thrill ride and paranormal romance.
Will Taylor dive into a paranormal world she knows nothing about to be with the one her heart can't live without? Or will her life spiral out of control when she learns her blood is needed, just the serum necessary to lift an ancient curse from a group of supernatural beings and give the witches back their magic? Werewolves will serve as her guardians and protect her until the first full moon of the new year, the night of her sacrifice…
Will she accept her destiny?
Or will she refuse to let evil swallow her up?
Books included in this box set:
Crush – Book 1
Crash – Book 2
Chosen – Book 3
Chaos – Book 4
Deep Web – Book 5
Genre: Paranormal Romance
Watch the Book Trailer of "The Crush Saga Box Set" by Chrissy Peebles