No Comments
Nine Irresistible Heroes by Catherine Kean, Laurel O'Donnell + more!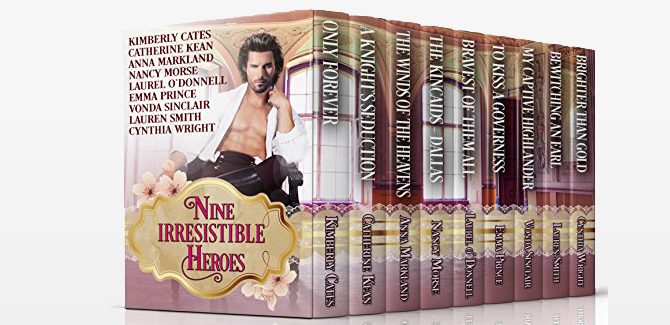 Realtime Price – N/A
This summer, fall into the arms of Nine Irresistible Heroes. This amazing historical collection features these stories from USA Today and Bestselling authors –
Only Forever by KIMBERLY CATES –
When thief-on-the-run Ashleen O'Shea flees famine-stricken Ireland for Texas with four orphans in tow, she must entrust her safety to lone wolf Garret MacQuade. Since the day when outlaws ravaged Garret's family homestead, he has shunned attachments, but when evil forces threaten, will he ride away or make a home with this patchwork family he's come to love?
A Knight's Seduction by CATHERINE KEAN –
When rogue warrior Tye takes innocent Claire Sevalliere hostage, he plans to seduce her, but soon finds he's the one seduced, for she brings light to his tormented soul. As battle draws near, and he's at risk of losing her, he must confront his greatest torment—and his destiny changes forever.
The Winds of the Heavens by ANNA MARKLAND –
They were twin warriors who'd always shared everything. But could they share a woman?
The Kincaids – Dallas by NANCY MORSE –
Abducted by the Kiowa as a child, Dallas Kincaid returns home after 22 years to a love he never expected to find. But his attraction to Abby McKenna is threatened by his struggle to define his own identity and by her family's prejudice that will not permit the attention of a man raised by Indians, no matter how hard he fought for Texas independence, giving Dallas one more battle to fight before he can lay the painful past to rest.
The Bravest of Them All by LAUREL O'DONNELL –
NESSA falls in love with her sister's betrothed and is willing to sacrifice her own feelings to ensure her sister's happiness. When LUKE OF BRACKLEY discovers Nessa has been kidnapped by an enemy, he risks everything to save her. Will Nessa be able to keep her love for Luke a secret even as her heart breaks?
To Kiss a Governess by EMMA PRINCE –
Desperate to save his crumbling Highland estate, Edmund, Earl of Kinfallon, sends for English governess Thea Reynolds to serve as a companion for his ailing sister. Yet he never imagines the mysterious beauty will capture his heart under the mistletoe.
My Captive Highlander by VONDA SINCLAIR –
Can unexpected passion and a little ancient magic turn enemies into lovers?
Bewitching the Earl by LAUREN SMITH –
She's desperate for a future to escape scandal. He's the man whose life her father ruined. Together their love will heal all wounds.
Brighter than Gold (Rogues Go West, Book 1) by CYNTHIA WRIGHT –
Gold Rush journalist Katie MacKenzie is infatuated from afar with the Griffin, a masked highwayman who robs from the greedy mine owners. But when their paths cross and sparks fly, will a tragic secret destroy their budding, passionate love?
Genre: Historical Romance
Nine Irresistible Heroes by Catherine Kean, Laurel O'Donnell + more!