No Comments
$0.99 "Lost and Found: The Complete Series" by Nadia Simonenko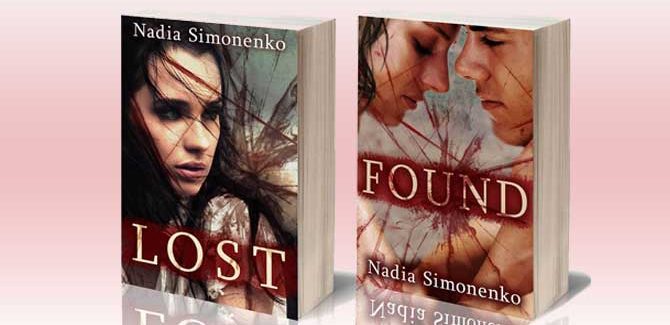 Ebook Deal of the Day:
$0.99 "Lost and Found: The Complete Series" by Nadia Simonenko
Genre: New Adult Romance, Contemporary Romance, College Romance
We'll find each other somehow. We're not lost anymore…
Maria's life was torn apart when she was fifteen, and for seven years, she's kept her terrible secret hidden from the world. Now, in her final semester of college, she still struggles against paralyzing fear just trying to speak up in class, and the terror and helplessness linger on in her nightmares.
Across campus, Owen sees his scars in the mirror every morning while he gets ready for class. They remind him of the broken home he left behind, the father he hates and fears, and the little sister he couldn't protect. Now, in his final semester of college, he's scared that he may have to return to the hell he called home after staying away for almost five years.
Fate has plans for Maria and Owen. Big plans.
When they finally meet, the two find themselves irresistibly drawn to each other. As they learn each other's secrets and grow closer, they realize that although they may be lost, they're not alone anymore. The past can't hurt them as long as they're together.
…or can it? They're about to find out.
Will the love and happiness Maria and Owen found be enough to hold them together as their lives fall apart around them, or will their relationship slip away and be lost forever?
Nadia Simonenko's bestselling new adult romance series is recommended for audiences 17+ due to dark themes and heavy content.