No Comments
Summer's Deadly Kiss (The Vampire Inheritance Saga Book 1) by Cate Farren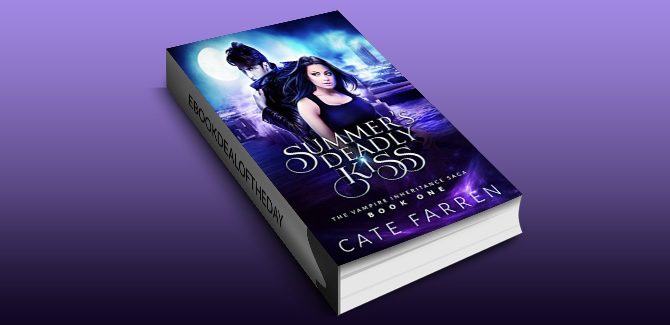 Realtime Pricing:FREE

A year has passed since Clover Kwon witnessed the brutal death of her boyfriend, Frankie. Even with the help of a therapist she is unable to come to terms with what she saw that night. Not only did she lose Frankie, but Clover's best friend, Saskia, hasn't spoken to her since.
Jared Van Clayborne seems to have it all. He is a gorgeous, newly-turned vampire, an heir to a fortune. On the inside, he's a mess. Atrocities he's committed in the past year torture his thoughts. Jared is forced into counseling, but because he must keep his vampirism a secret, it hasn't helped.
Jared makes a desperate decision one night, but fate brings him face to face with Clover, a girl he had a crush on when they were in elementary school. A passionate magnetism draws them to one another. They both have secrets, but find solace in each other's arms.
Things begin looking up when Clover is finally reunited with Saskia. The young women are determined to figure out what happened to Frankie, and launch an investigation to bring those responsible to justice. As Clover and Saskia start piecing together clues, it draws the attention of some powerful individuals and puts their lives, and everyone around them, in jeopardy.
Summer's Deadly Kiss is book one in the The Vampire Inheritance Saga.
Warning – This books contains sex, violence, bad language, and hot vampires.
Genre: New Adult, Paranormal Romance