No Comments
Classmates: MMF Bisexual Romance by Nicole Stewart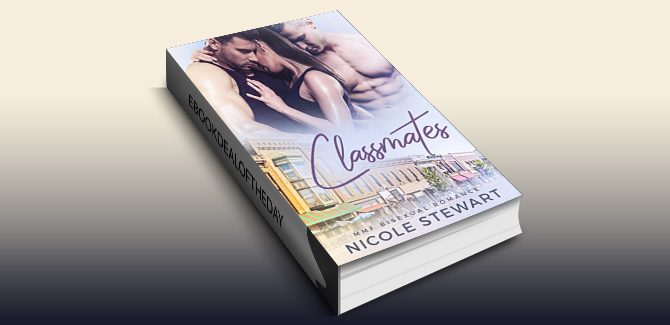 Realtime Pricing:$3.99

LUCY
After ten years chasing her dreams, Lucy is on her way! Home, that is. She can't tell anyone that she never made it to Hollywood. To appear successful, she needs her best friend and sweetheart Noah to play the leading man in her biggest drama yet. He's her pretend husband. She's the new teacher at their old high school. They're happily married. Only one of those things is a lie.
But that isn't the only scandal here.
NOAH
Noah knows that going back means facing a complicated past. When Lucy clashes with her first love right out of the gate, he wonders if their fake marriage can outlast passions that ten years apart couldn't kill. Noah has wanted Lucy since he hit puberty.
The problem is that she just can't stop thinking about her ex-boyfriend. And neither can he.
SHAWN
Shawn can't decide how it went. The love of his life ran off with her best friend. Or, the love of his life ran off with his girlfriend. Either way, both took half his heart. Now they're back, and the old confusing feelings are, too.
They all have their secrets, and secrets tend to spread like wildfire in small towns.
Classmates is a scorching hot Bisexual / Menage MMF Romantic Comedy with explicit scenes and a guaranteed HEA ending.
Genre: LGBT, Contemporary Romance, MMF Romance