No Comments
Rolling Thunder by Mark Berent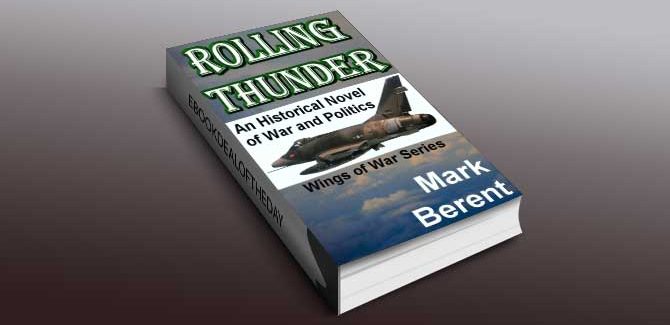 Realtime Pricing: B&N: Free iBook: Free
In the 1965 – 1973 era, nine women are featured and play significant roles in the five-book Wings of War historical fiction series about war and politics during the Vietnam War.
Four airline stewardesses fly the civilian contract flights that bring American soldiers to and from the war zone in Vietnam have difficult love affairs with G.I.s and fighter pilots. After one flight they come under attack while on an airbase..
Two Eurasian women working for the communists betray their ideologies. One saves a young lieutenant from capture while the other not only helps a black POW survive in the hell of the Hanoi Hilton but warns him of propaganda program that would use him as a pawn.
The British wife of a USAF major general, who is about to resign over his disgust at how the war is being prosecuted, provides the calm support that enables him to stay on and fight the White House and the Pentagon with a plan to reduce casualties.
A world-famous British actress helps punch out harassing war protesters who have surrounded her on the Washington mall.
Another world famous actress, an American, makes broadcasts for the communists from Hanoi. A picture of her rhapsodizing on the seat of an anti-aircraft gun used to shoot down her fellow Americans makes world-wide headlines.
Genre: Romance, Contemporary Romance, BDSM, Paranormal Romance