No Comments
Free Three Science Fiction & Fantasy Nook Books!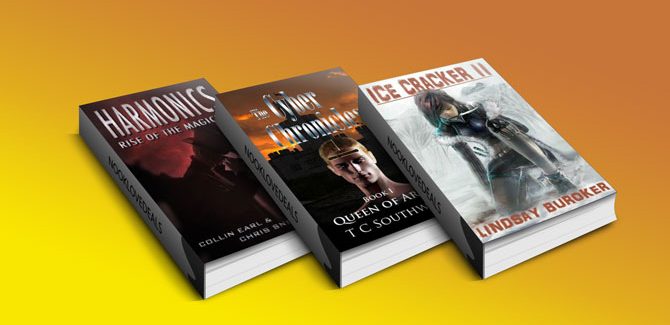 "Harmonics: Rise of the Magician" by Collin Earl
Genre: Science Fiction & Fantasy
Samantha Montgomery of Academy City 676 always dreamed of life outside of school. Sometimes you have to be careful what you wish for. A rogue weapons manufacturer, a ruthless killer, and a schoolgirl converge as a weapon so advanced it defies the laws of physics is a mere breath away from being unleashed on the world. Now it's up to Sam and some unexpected allies to keep it out of the wrong hands.
"The Cyber Chronicles: Book I: Queen of Arlin" by T.C. Southwell
Genre: Science Fiction & Fantasy
When Queen Tassin is forced to flee her kingdom on the backwater planet of Omega V, she has no idea that the strange warrior who helps her is a cyborg; the deadliest hi-tech killing machine ever created. Her world has forgotten the technology that almost destroyed it, but then a freak accident damages the micro-supercomputer that controls Sabre, and he is free to take charge of his destiny…
"Ice Cracker II" by Lindsay Buroker
Genre: Science Fiction & Fantasy
She's wanted for crimes against the throne. He's the empire's most notorious assassin. With bounties on their heads and soldiers hunting them, they're not likely candidates for heroics. But when they unearth a plot against the military's premier ice breaking ship, they may be the only ones who can thwart the saboteurs…if the soldiers don't kill them first.