No Comments
Free Three Romantic Mystery, Thriller & Suspense Kindle books!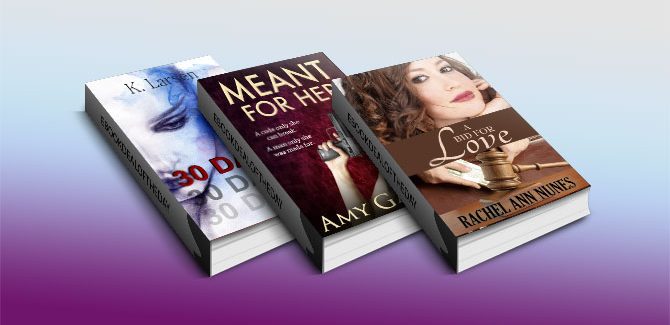 Free! "30 Days" by K. Larsen
Genre: Romantic Suspense, Mystery
Abused by her husband. Dealing with the loss of her only sister. A suicide attempt that doesn't end in death and a husband who wants her inheritance. Elle's life is a catastrophe. But she has a list and thirty things she's determined to accomplish. Love isn't on that list but it comes crashing unexpectedly into her life.
Ryan's current lifestyle requires a lot of funds, he likes his toys. He married his wife knowing she had a hefty inheritance and is bent on securing it for himself by any means possible.
Boxing coach and personal trainer at the gym he co-owns, Colin's content with his life. Until a chance meeting with a woman eating alone at a restaurant sets his heart in motion. As secrets unveil themselves his only goal becomes holding on to what he's found.
"Meant for Her (Romantic Suspense) (Love and Danger, #1)" by Amy Gamet
Genre: Mystery & Suspense, Romance, Womensleuths
Book one of the Love and Danger series.
A code only she can break… A man only she was made for…
Julie Trueblood's name is found alongside an encrypted message in the safe deposit box of a dead man, bringing Navy investigator Hank Jared to her door, looking for answers. The daughter of the most infamous spy of the twenty-first century, Julie denies any knowledge of the man or the cipher and sends Hank away.
Hank is supposed to be in the Adirondacks walking his sister down the aisle, not chasing leads on a John Doe murder investigation that doesn't even appear to be Navy-related. He's a military man through and through, and while an order is an order, he hasn't given up hope of finding a way to make the ceremony. When Julie contacts him and says her life is in danger, Hank finds the perfect place to hide her, right by his side, pretending to be his girlfriend at his sister's wedding. Now he just needs to remember their relationship is all an act.
Sparks fly between Hank and Julie as they defend against a hidden enemy and seek out the truth in this deadly game of cat-and-mouse. The coded message brought them together, but its secrets hold the power to tear them apart. Guided by her generous and quirky Aunt Gwen, Julie will gather the courage to unravel the cipher that was meant for her to decode, as she learns to trust the man she was meant to love.
"A Bid For Love" by Rachel Ann Nunes
Genre: Christian Fiction, Romance, Mystery, Thriller & Suspense
Cassi is the head buyer for a prestigious art gallery in California. Jared is a buyer for an exclusive New York gallery. Sparks fly as the two come head to head in a bidding war for a hideous but very expensive Indian Buddha.
Cassi and Jared are both determined to win the statue, but others also want the Buddha—at any cost. Thugs, art forgers, the FBI, or Jared's beautiful and alluring boss . . . who will end up with the statue? During a string of hair-raising exploits, Cassi and Jared are forced to develop a tentative friendship that deepens into romance. Will they survive long enough to see it through?
Best-selling author Rachel Ann Nunes has crafted a wonderfully intriguing and romantic drama in this fast-moving novel, bringing two idealistic people together from opposite edges of the continent and allowing them, in their own way, to find an unexpected connection to their Christian faith and each other. In the end, their very lives depend on the trust they've developed.