No Comments
Free Three Romance Kindle Books!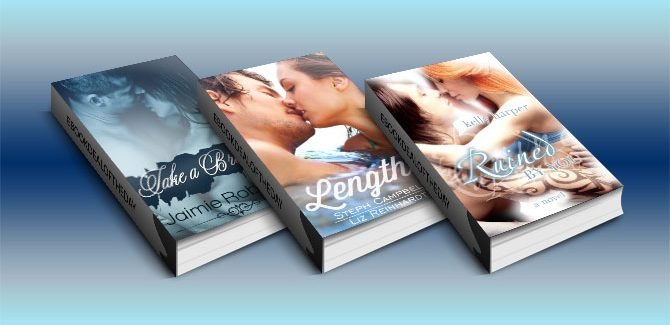 Free! "Take a Breath (Take 1)" by Jaimie Roberts
**Warning: Contains Strong Language and Explicit Sex.**
Ana Sinclair has not led the most ordinary life. From a child she was plucked from one home to another, as her mother went through men, like some women went through chocolate. Now at the age of 22 she has completed her Bachelor's degree in Criminal Justice, has a fantastic job as a Crime Analyst and lives and works with a man called Jake Bennett, who she cannot shake out of her head no matter how hard she tries. This man has been her obsession since the first day they met, but there is one major obstacle standing in her way. He's getting married to her mother.
When her mother, Stella decides to suddenly flee once more, Ana and Jake are left with his 16-year-old son, Matthew to carry on with life as normal. But an unexpected turn of events pushes them both closer together, creating the most intense, mind-blowing relationship any of them have ever encountered. The chemistry between them is electric and Jake's caveman tendencies has Ana both irritated and turned on all at the same time.
Unfortunately for them, all is not perfect in the Bennett household when a serial killer on the loose seems to have an unhealthy obsession towards Ana. Jake, being Captain of Fairfax County tries his best to keep Ana safe and protected from harm, as Ana tries desperately to keep a dark skeleton hidden in her closet from leaking out to the ones she loves. The situation takes a turn for the worse when Ana discovers a note on her pillow from the killer, and the events that unfold from that point on, threatens to tear apart their relationship forever.
"Ruined By You (The By You Series)" by Kelly Harper
Can one summer change your life?
Maggie Simpson has one summer left before college starts. And the last place she wants to spend it is in Green Falls, TX with her mother's family. She was annoyed when her mother announced the change of plans at the last moment, but as she reconnects with her cousin Sarah, she realizes a summer away might be exactly what she needs.
Maggie decides to find a summer job to keep herself occupied, and to help pay for college. She is ecstatic when Scottie gives her a job at a local watering hole, The Hill Country Saloon, to find a band to headline the annual Battle of the Bands competition.
One night, Maggie meets sexy and mysterious Haden, and he agrees to help her find a band for the competition. As Maggie and Haden work side by side, secrets are unleashed that make Maggie question everything she thought she knew about Haden, and the reason for her summer in Green Falls.
Secrets, so powerful, that her life may never be the same.
(New Adult Contemporary) **Mature Content** Recommended for ages 17+ due to sexual situations and language.
Warning: Ruined By You is the first book of a two part series. It ends on a cliffhanger.
"Lengths" by Steph Campbell
**Expanded edition with new content!**
Nineteen-year-old Whit Conrad leaves her conservative Pennsylvania home for sunny California, looking for independence, a fresh start, and a place to stash her grief. She promptly finds a job at a tattoo parlor, a craptastic first apartment, and one friend—Ryan—who is a little less friend, a little more benefits.
Deo Beckett is a soulful surfer with a passion for tattoos and beautiful women. On the eve of his twenty-second birthday, he finds himself living with his grandfather, recently unemployed, and seriously adrift. He doesn't know much about what he wants out of life, but he does know his current situation isn't cutting it.
When Deo meets Whit, she's all sexy makeup and fierce, smart-ass fun. It doesn't take him long to see past her tough shell. And when he gets a good look at what's under all the superficial stuff that usually gets his attention, it leaves Deo wondering if there might be more to life than living fast and free.
Too bad Whit has a past she doesn't plan on sharing—no matter how hot Deo is. She might want him, but she knows better than to let her guard down.
Deo falls for Whit, and falls hard. But everything about her, down to that mysterious tattoo and the way she thrashes in her sleep, tells him that the girl he loves is hiding something. And the more he pushes for answers, the more Whit pulls away.
Having your guard up is one thing, but are the lengths Whit goes to to protect her secret worth throwing away the second chance she has at happiness with Deo?