One Comment
Free Three Paranormal Romance Kindle Books this Friday!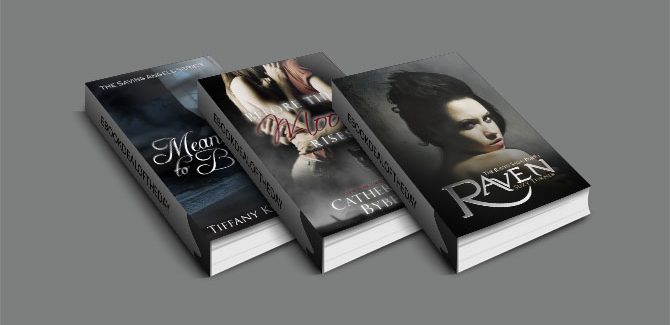 "Before the Moon Rises (Ritter Werewolves)" by Catherine Bybee
After a twelve-hour shift in a busy emergency room, Janet O'Brien is beat. Her last patient arrives unconscious and naked. She's lead to believe he's a psyche patient off his meds. However, once he awakens, Janet is charmed by his million-dollar smile and agrees to give him a ride home.
Werewolf, Max Ritter notices the sassy nurse when he wakes after a night under the full moon. Unfortunately, his archrival is drawn to Janet as well. In order to keep her out of harm's way, he opts to keep her close. When the chemistry between them sparks, Max discovers a completely new reason to keep Janet safe.

"Meant to Be (The Saving Angels book 1)" by Tiffany King
Krista Miller feels like she has lived her entire life in a glass box with her every emotion on display. She can't help feeling like a defect as her sensitivities have made her socially inept and without any real friends; the one exception being the boy that visits her each night in her dreams.
Krista's emotions are put to the test when a move to California triggers a devastating change to her fantasy world. The nightly comfort that the boy provides has now become a recurring nightmare as he is taken from her by an unseen force.
Struggling to appear normal, Krista enrolls in a new school and finds it to be nothing like she thought. Her new life is sent spiraling out of control from a strange connection with a boy, Mark, who claims to know all her secrets.
As Krista begins to explore the emotions that Mark evokes in her, secrets about their mysterious past and their predestined purpose threatens to separate them just when they have found each other.
"Raven (The Raven Saga)" by Suzy Turner
After the inexplicable disappearance of Lilly Taylor's parents, she has no choice but to move to Canada where she unravels some frightening yet intriguing family secrets…
Her whole life had been based on a lie. Lilly had grown up in a loveless home with a father who she had barely ever seen and a mother who was… well, not very motherly.
After they mysteriously disappear without a trace, Lilly is sent to Canada where she finds a whole new way of life. A life filled with love and people who care for her. But that's not all she discovers, Lilly also finds out that she isn't who, or what, she thinks she is.
Lilly has a very special ability and it's just a matter of time before her true self starts to shine. And when it does, her life will never be the same again.
Raven is a fantasy novel for children and young adults set in the beautiful province of British Columbia.