No Comments
Free Three Kindle Books this Thursday 'til tomorrow!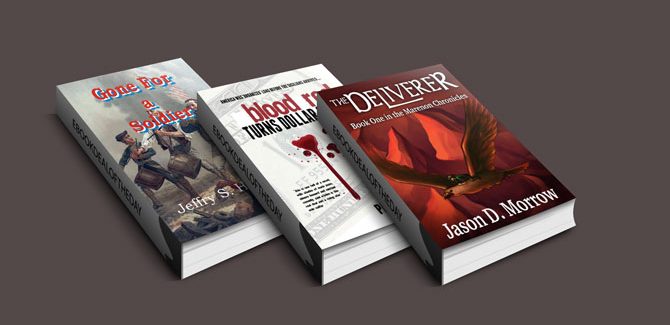 "Gone For a Soldier (Gone For Soldiers – Volume 1)" by Jeffry S. Hepple
Divided by loyalty to the King of England and the idea of democracy, the Van Buskirk family struggles from the Boston Tea Party to the Battle of Yorktown to preserve a way of life or forge a new nation.
This novel includes descriptions of major battles, transcriptions of letters from George Washington, John Adams, Benedict Arnold and many other prominent figures of the American Revolution as well as important documents such as the Declaration of Independence and articles by Thomas Paine.
"The Deliverer (The Marenon Chronicles Book 1 of 3)" by Jason D. Morrow
Prophecies are not always clear. That is what seventeen-year-old Silas Ainsley learns when he finds himself in a realm called Marenon.
The people of Marenon are nearing the brink of war and many of them claim that Silas is the fulfillment of an ancient prophecy that will deliver them from the dreaded Stühocs. The prophecy, however, was unclear as to whom Silas would save.
Each group wants to use him for their own purposes, and he doesn't know who is trustworthy. With the help of a lawless band of mercenaries, Silas must take a mysterious journey to uncover the meaning of the prophecy before Marenon falls to ruin.
The only way to get to Marenon is to die, and Silas has just arrived.
"Blood Red Turns Dollar Green" by Blood Red Turns Dollar Green
This novel contains adult themes and situations.
1972 New York City and a dazed Lenny Long walks away from a crash carrying someone's foot in his hand. He is also searching for the VIP passenger who has somehow disappeared from the back of his overturned van. It's the first day of his new promotion and Lenny has less than twenty minutes to deliver the missing person or a lot of people are going to get badly hurt.
Danno Garland is in Shea Stadium trying to avoid a riot. He's coming to the end of the most successful wrestling card of all time but he's also coming to the realisation that he might not be able to deliver his widely hyped main event. He knows there's more than the eyes of the arena on him and if Lenny doesn't arrive soon, blood is going to be sought. Probably his.
Proctor King nervously watches the show on TV, wondering why his fuck-up of a son doesn't already have the world heavyweight belt in his grasp. Arranging this match has taken Proctor four years of pay-offs, double dealing and bone breaking to arrange. If all that effort has been wasted then he might just have to take him a business trip to New York.
Lenny, Danno and Proctor. Three men with pieces of the puzzle but none with the full picture.
When they do piece it all together, the 'fake' world of professional wrestling is going to get very real.