No Comments
Free Three Fantasy Romance Kindle Books this Friday!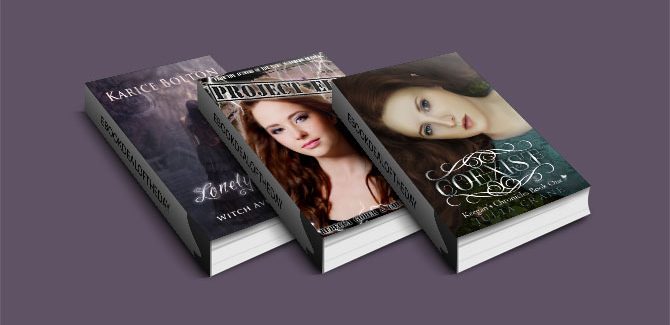 "Coexist (Keegan's Chronicles #1)" by Julia Crane
Sixteen-year-old Keegan is struggling to keep her huge secret from her friends–she's an elf, descended from a long line of elves that live in secrecy alongside humans.
In elfin society, mates are predetermined but not allowed to meet until they are eighteen. Against tradition, Keegan's brother Thaddeus told her Rourk's name because his visions warned him she'd need Rourk's protection, especially since Keegan will play a key role in the coming war between the dark and light elves.
Rourk finds himself drawn to Keegan's side every time she thinks his name. He wants to talk to her but remains in the shadows, silently guarding her every time she mentally beckons him. A twist of fate thrusts the two of them together when Rourk is forced to step up his protection and make his presence known.
An ancient prophecy deeply entwines Keegan's family and the future of their society. Somehow they must find a way to thwart fate and win the battle…without losing Keegan. With war brewing, and dark forces aligning, will Keegan and Rourk ever have the life together that they both desire?

"Project ELE" by Rebecca Gober and Courtney Nuckels
Millions have already died, and thousands more are perishing daily. As a last ditch effort to preserve the human race, the government implements Project ELE. With the earth heating at rapid speeds, all remaining survivors are forced to turn to F.E.M.A. shelters to wait out ELE's wrath.
Fifteen-year-old Willow Mosby's life, as she knows it, ends the moment she walks through the shelter's door. Willow has to quickly adapt to the new challenges that shelter life demands, the least of which includes making new friends, working a full time job and experiencing her first relationship.
Soon after making an interesting discovery, Willow and her friends start exhibiting strange abilities. Seeking answers, they embark on a mission to find out what these new abilities mean and whether they are a gift or a curse. This new adventure can send her world crashing down around her. The question is: Can Willow survive the fall?
"Lonely Souls" by Karice Bolton
Paranormal Romance
A world full of magic, love, and loss…
It's two weeks before Triss turns 18, and her world is about to change into the most magical one imaginable as she readies to enter The Witch Avenue Order… that is until her mother's disappearance.
Unsure of who she can trust, Triss is relieved when her childhood friend, Logan, moves back to town for college — except he's changed — and she's worried he'll become more of a distraction than a help. As the line between friendship and love is blurred, Logan proves to be everything she needs during this time. Triss agrees to let Logan help her find the answers she so desperately seeks surrounding her mother's disappearance.
When they begin uncovering clues, it becomes apparent that the life of white magic they both grew up loving is not what the majority practices, and their lives are in danger.
With a haunting feeling that her mother may still be alive, she begins to feel a call to the wilderness. Triss realizes that in order to find the answers she needs, she must learn the ways of her ancestors. She must become the hunter and not the hunted before it's too late, and she becomes part of the Lonely Souls.