No Comments
Free Sunday Deals: Four Free Horror Ebooks for Kindle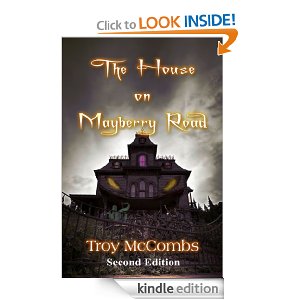 Welcome to our daily free ebook specials.  Each day we'll choose a different genre to highlight so that you can get extra books in your favorite genres. Be sure to Follow us on Facebook to get all of our free kindle deals.
Today's feature is four free horror ebooks for Kindle. Hope you enjoy. Be sure to confirm the ebooks are still free before downloading. Ebooks were free at the time of posting, but prices are subject to change without notice or updation.
Enter to Win a Kindle Fire at the "Dark Summer" month of promotions. Giveaway ends Sept 20th be sure to enter for your chance to win. Details on Lizzy Ford website.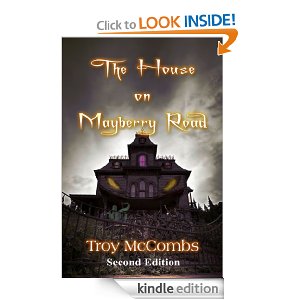 The House on Mayberry Road
by Troy McCombs
'A house not only haunted by spirits but infested with beings beyond the limits of human imagination'
When four adventurous teenagers go to investigate the supposed 'haunted house' out on Mayberry Road, they get more than they'd bargained for. One boy ends up dead, two others psychotic, and another comatose. The house is not just haunted, it is somehow alive. And extremely dangerous.
Download here (confirm still free before downloading):

****
Morgan Hall
by Bo Briar
Love never dies, and revenge never sleeps in Morgan Hall…
Morgan Hall, a desolate country estate, has been in Lady Christie Morgan's family for almost 400 years. A family cursed by eternal tragedy, and now Christie is the last Morgan.
Apparitions appear, sparking a chain of horrifying occurrences involving Christie and the two men who love her: Anthony Longfield-Lothian and Tristan Ely.
A saga of mystery and sordid family history weaves intrigue for the passionate love triangle. Past and present war as the secrets of three aristocratic families unfold – resurfacing in a spine-chilling mystery of passion and lust, ghostly happenings, and blood-curdling murders.
Emotions run high as their world spins wildly out of control. Are they all cursed to repeat the grizzly past? Does sweet revenge claim its prize?
Morgan Hall.
Download here (confirm still free before downloading):

****
Shattered Princesses
by Jim Leeds
Some parents might say their daughter getting pregnant and running away as a teenager is the worst thing they could imagine. But the citizens of Vann, Georgia would see things differently. In Vann, very young girls were being abducted. A week or so later, when their lifeless bodies were recovered, there was no doubt they'd been brutally raped.
Two people in the small mountain town knew who was responsible. One was a person whose own checkered past got in the way of the truth. The other was the murderer. If the killer's identity were divulged, both would suffer the consequences. How many children would die before someone spoke up?
All but one of the young victims had been held captive for ten days. Shattered Princesses describes the events occurring during the last ten days of the most recent abducted child's life. Will the law enforcement officers discover the murderer in time? Will they be able to save the life of a child? You'll have to read "Shattered Princesses" to find out.
Download here (confirm still free before downloading):
****
The Other Side of Silence
by J. Klinger-Krebs
As she felt the cold metal barrel against her head, Grace closed her eyes tight and heard a fast click. She wasn't surprised when the sharp, hot wind rushed across her face. As she felt herself lift away she saw the children on the street. But they were too far away and hadn't heard the gunshot. She watched Alfred below shaking as he stood over her lifeless body. No one would understand what brought him to this. Was it a family curse that led to the murder of Grace Harper at the hands of her husband in 1975? This is the question that her great-granddaughter Ellie seeks to find in The Other Side of Silence. Though Ellie has never met her great-grandmother in life, following a car accident she awakes to find herself face-to-face with the woman who lived a lifetime before she was born.
Unsure if she's dead or dreaming, Ellie learns from Grace the family's torrid past of witchcraft and infidelity, and a spell that was supposedly cast on a wedding ring handed down from generation-to-generation. This same ring Ellie now wears on her right hand.  As Grace reveals her story to her great-granddaughter, Ellie begins to recognize how she and her husband, Joe, have come to exist on separate planes of silence, never talking and telling each other how they truly feel. This same silence, Grace explains, is what led to her demise so many years ago.
Determined to break the family curse, Ellie struggles to wake herself from what she believes is a dream, and return to make things right with Joe. Meanwhile, Joe is also coming to terms with his own inner demons. Torn between the man he is and the man he wants to be, Joe begins to face reality and realize how fortunate he's been to have a woman who loves him unconditionally. But, with all the damage that has already been done, Joe begins to see that it may be too late to save Ellie and their marriage.
Download here (confirm still free before downloading):