No Comments
Free Kindle Books- Three Free Historical Romance Ebooks for 9/29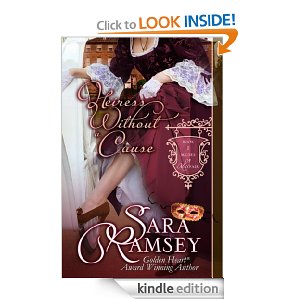 Free Kindle Books- Three Free Historical Romance Ebooks for 9/29
Follow us on Facebook to get more daily bargain and free kindle books. Please LIKE & share with your friends.
Confirm books are still free before downloading. Prices are subject to change without notice or updation. All ebooks were free at the time of posting.
One title to change his life… A disgraced son with a dark reputation, William "Ferguson" Avenel is content to live in exile – until his father dies in the scandal of the Season. With rumors of insanity swirling around them, his sisters desperately need a chaperone. Ferguson thinks he's found the most proper woman in England – and he won't ruin her, even if he secretly desires the passionate woman trapped beneath a spinster's cap.
One chance to break the rules…Lady Madeleine Vaillant can't face her blighted future without making one glorious memory for herself. In disguise, on a London stage, she finds all the adoration she never felt from the ton. But when she's nearly recognized, she will do anything to hide her identity – even setting up her actress persona as Ferguson's mistress. She'll take the pleasure he offers, but Madeleine won't lose her heart in the bargain.
One season to fall in love…Every stolen kiss could lead to discovery, and Ferguson's old enemies are determined to ruin them both. But as their dangerous passion ignites their hearts and threatens their futures, how can an heiress who dreams of freedom deny the duke who demands her love?
Click HERE to download (confirm still free before downloading):
*********************
Masquerade Secrets (Scandals & Secrets – Book 2)
A novella of 36,000 words (about 130 pages). A confirmed wallflower, Lady Aubrey Langston didn't have high hopes for the new season. After a masquerade was announced, a modiste promised Aubrey that she would add some magic to her gown, enough to have men eating out of the palm of her hand. Little did Aubrey know that she would fall for the Duke of Wathersby, her best friend's almost fiancé. With a shared history of tepid friendship, Aubrey struggles to trust the man who so completely stole her heart.
Bradford, the Duke of Wathersby, wanted to find a bride, and quickly. Preferably one that didn't drive him mad. Frustrated with the social scene, he longs escape to the country. At least he did until he met the beyond incomparable masquerade woman. Driven with a force he had never felt, he wants to make her his forever. While Aubrey tries to reconcile her fears, an outside force is working to tear them apart. As another woman plots against them, Bradford must do everything in his power to convince Aubrey that she is the woman he wants. Will Aubrey be able to overcome her fears and be able to trust the man she loves, or will their relationship only be another masquerade secret? Includes an excerpt from Secrets in Mourning, the third book in the Scandals & Secrets series.
Click HERE to download (confirm still free before downloading):
*********************
The bluest of blood, the boldest of hearts; the de Montforte brothers will take your breath away."
England, 1776: Lord Gareth de Montforte is known as an irresponsible rake with a heart of gold. When he takes a bullet for boldly thwarting a stagecoach robbery, he is stunned to discover that the beautiful young woman he has heroically rescued, Juliet Paige, is his deceased brother's American fiancée, accompanied by her infant daughter. Despite his brother the duke's refusal to acknowledge Juliet, Gareth is determined to do right by the courageous woman who crossed an ocean to give her baby her rightful name. But Juliet is wary of marrying this black sheep aristocrat, even while she is hopelessly charmed by the dashing devil. Never has she met anyone who embraces life so thoroughly, who makes her laugh, who loves her so well. And, even when it seems the odds are against them, Juliet has absolute faith that Gareth will go beyond the call of duty, risking his life itself to give her and her daughter a home — and a love that will last a lifetime.
Click HERE to download (confirm still free before downloading):