No Comments
Finally Got It Right by C.K. O'Connor + more!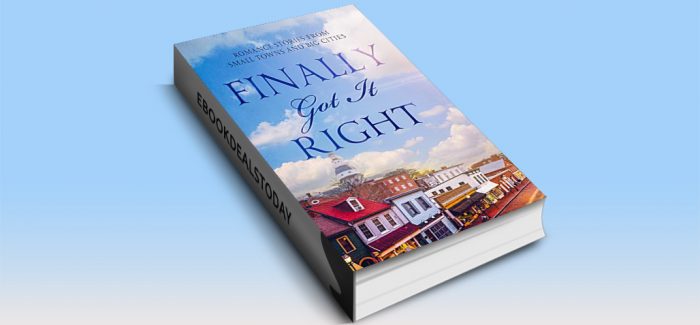 Pre-Order – $3.99
This collection of small town and big city romances and romantic comedies will keep you glued to the page, with stories including…
* A Rockstar who broke his promise to resurrect his fiancée's languishing ranch, but took five years to return. Will she grant him a second chance, or has their love played its last tune?
* A young woman who fled the big city to escape her politician father's cheating scandal… only to fall for a struggling small town bike builder waiting for his big break. Is he a cheat like her father, or could the sexy single dad be custom made for her?
* A rundown single mom looking for a break and a kind-hearted entrepreneur in love with the wrong woman. Will their chemistry bring them love… or will the ghosts of her past come back to haunt them?
* A divorced, big time city baker forced to return to her family's ranch. Falling for the younger and all too charming ranch hand was never part of the plan…
* A scandal that made Mitch and Olivia enemies. Can they now claim their joint inheritance without starting World War III?
* A haunted vet with nowhere else to go and a determined woman with no place to call home. Can they heal the hurricane-ravaged town of Patriot Bay… or with their broken hearts get in the way?
* And many more stories full of surprise, heartache, humor, and ALL the feels!
Fans of small town romances, romantic comedies, friends to lovers, second chances, military veterans, and happily ever afters will devour this boxed set of more than 15 standalone romances.
Each unique story in the Finally Got It Right Boxset guarantees a swoon-worthy book boyfriend and a happily ever after that fans of Melanie Harlow, Corinne Michaels, and Nicole Ellis are sure to enjoy!
Authors included in the box set are CK O'Connor, Heather Silvio, Cricket Rohman, Alexi Ferreira, Susanne Ash, Ginger Ring, Jade Royal & Amy Cecil, JL Campbell, Carmen Cook, Mel Walker, CA Miconi, Maci Dillon, JC Layne , Toni Denise, Lorah Jaiyn & Tiffany Carby, Jewel Walters, Macie Collins
Genre: Romance
Finally Got It Right: Romance Stories from Small Towns and Big Cities by C.K. O'Connor + more!