No Comments
Duty and Betrayal: The SS Brotherhood and the NASA connection by Toby Oliver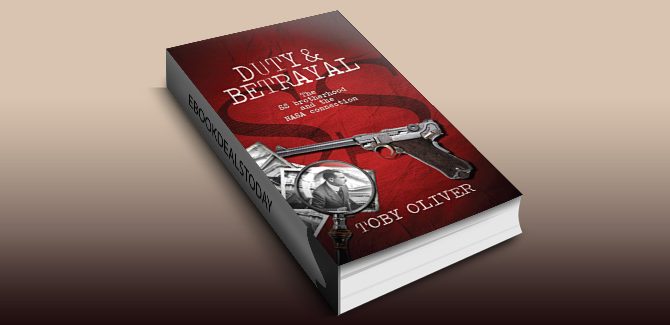 Price – $0.99
Everyone has a different agenda when a former Nazi scientist and a current NASA rocket expert arrive in 1960s London for a conference. International spies and war criminals alike are still looking to settle old scores from World War II.
Monitoring the conference are Spencer Hall of MI5 and Jack Stein of the CIA, top agents who became fast friends while fighting side by side for their lives. They've been called to protect their nations' vital secrets, but one of them harbors his own plans for revenge. Meanwhile, Bernard Zimmerman, the NASA scientist, wants everyone to forget his past work with the Third Reich so he can create a new life in America. Unfortunately, both the Soviets and the Germans remember him all too clearly.
Thrown into the mix is Joyce Leader, a beautiful double agent with contacts in both Britain and Germany. If secrets from her past missions fall into the wrong hands, her life may be in jeopardy.
Filled with drama and double-crosses, this suspenseful tale unfolds inside a dangerous web of top secret knowledge and unknowable loyalties. These spies and ex-Nazis can't help but get further entangled as they seek their own justice for past wrongs.
Genre: Espionage, Mystery & Suspense
Duty and Betrayal: The SS Brotherhood and the NASA connection by Toby Oliver