No Comments
Dirty Daddies 2023 Spring Anthology by Multiple Authors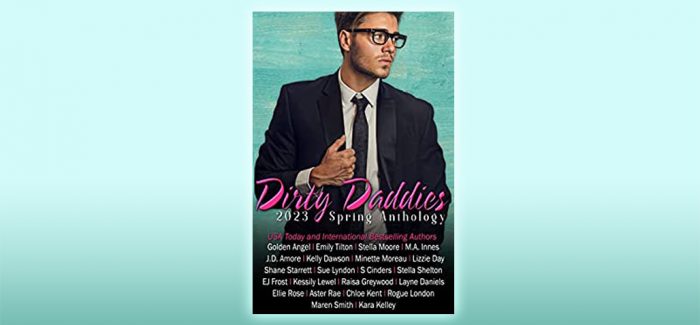 Admin | On March 29, 2023
Realtime Price – $4.99
April showers bring May flowers — and plenty of red hot bottoms.
As things start to warm up outside, these Daddies are warming up their Little ones in these brand new, deliciously naughty stories from the top authors in the genre. From blue collar, down-to-earth Daddies to Daddies that are literally out of this world, there's a little something for everyone in this anthology!
Scrub Daddy by Kara Kelley– If Mr. Clean was helping naughty little girls shine up their act.
Waffle Daddy by Minette Moreau – This Daddy will always eat your syrup.
1-800-Dial-A-Daddy by Lizzie Day -Dial 1-800-Daddy to make a connection.
Seismic Daddy by EJ Frost – A Daddy who knows just how to make his little quake.
Goose Daddy by Kessily Lewel -That's one mean Daddy =P
Demon Daddy by J.D. Amore – A Daddy so bad he'll make you feel like you're in heaven.
Appliance Daddy by Raisa Greywood – He'll make sure you're cooking with gas.
Tentacle Daddy by M.A. Innes – This Daddy Dom is a sucker for his baby boy.
Belt Daddy by Shane Starrett – He's going to take his angel in hand until she learns to watch her mouth stop using puns (sadly for him, that will never happen).
Cheese Daddy by Golden Angel – It's not easy being this cheesy.
Virgin Daddy by Stella Moore – No Daddy can possibly be ready for this princess' demands.
Demolition Daddy by Kelly Dawson – He's going to break down the walls of her emotions and renovate her heart.
Hover Daddy by Layne Daniels – It's not a leash, it's a safety tether!
Plumber Daddy by Ellie Rose – Let Daddy clean your pipes.
WereBear Daddy by S. Cinders – Fast, furious, and furry.
Prepper Daddy by Sue Lyndon – What happens in Daddy's bunker, stays in Daddy's bunker.
Lumber Daddy by Chloe Kent – That's not wood in his pocket … or is it?
Curling Daddy by Stella Shelton – Looking for the perfect little girl to warm his ice cold heart.
Cotton Candy Daddy by Aster Rae – This Daddy is so sweet, he'll give you cavities.
Accountant Daddy by Rogue London – You can count on him.
Sparkle Daddy by Maren Smith – The only person he'll sparkle for is his baby girl.
Chess Daddy by Emily Tilton – This Daddy is going to use a gambit to checkmate his Queen.
Genre: Erotica, Romance
Dirty Daddies 2023 Spring Anthology by Multiple Authors