No Comments
Falling for Emma by Alix Nichols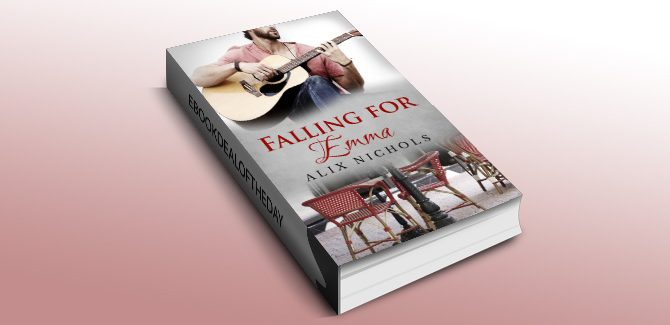 Realtime Pricing: Amzn: $2.99 B&N: $9.99

Falling for Emma is Book 0.5 in the Bistro La Bohème contemporary romance series.
– –
Rising star of French soft rock Cyril falls for Laura — the charming groupie who waltzed into his life one sweet summer afternoon.
Their story could have been pretty straightforward except…
He's blind.
And she isn't who she claims to be.
Is the "Bistro La Bohème" series for you?
If you've enjoyed Amelie and Friends and appreciate contemporary romance novels with smart and strong heroines, sexy heroes and witty dialogue; if you like sweet and steamy 'friends to lovers' and 'second chance' stories — then give this new series a try!
It will delight you with an unforgettable cast of imperfect and charming young men and women who frequent an ordinary yet special Parisian café. They fall in love, cope with heartbreak and chase their dreams with a passion that makes them endearing even when in the wrong.
Welcome to the Bistro La Bohème! Take a seat by the window, order your café crème and lose yourself in these deeply romantic and heart-warming tales of love, friendship and finding out where you belong.
* * *
The books are interconnected, with a recurring setting and characters. But each story is self-contained, and you can read it as a stand-alone.
Genre: Contemporary Romance