No Comments
Beneath Black Sails by Clare Sager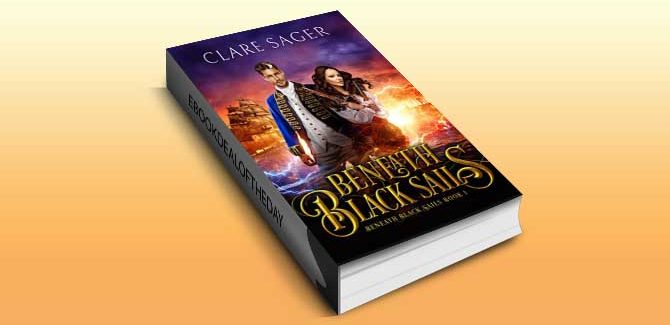 Realtime Price – FREE
Pirate versus pirate hunter. To lose is death, but winning just might be worse.
With weather magic on her side, Lady Vice is the bane of the high seas, but she isn't captain of her own ship. Yet. If she can persuade her captain to give her a command, she'll be in charge of her own fate at last.
To pay off his family's debts, Knigh Blackwood hunts pirates for the Royal Navy. And he's damn good at it. When the bounty on Lady Vice grows, he's determined to make her face justice, even if that means using unorthodox methods.
Forced to work together, neither can deny their mutual attraction. As they face battles at sea and schemes amongst their crew, they discover hints about a long-lost treasure that could be the answer to both their problems.
But treasure isn't the only thing buried. Secrets best-forgotten lie in wait that could blast them apart. And the closer Vice and Knigh grow, the greater the threat – to her freedom and to his family. Because for one to succeed, the other must fail.
If you love cunning heroes, feisty heroines, and enemies to lovers romance, you'll love this new adult fantasy series that's perfect for fans of Sarah J Maas and Miranda Honfleur.
Buy Beneath Black Sails today to escape on rum-drenched adventures in a world where flags can lie, X marks the spot, and loyalties shift more than sand.
~~~
As you might expect from pirates, these stories include mild cussing and steamy encounters.
Prequel – Across Dark Seas – Out now
Book 1 – Beneath Black Sails – Out now
Book 2 – Against Dark Tides – Out now
Book 3 – Under Black Skies – New release! (May 2021)
Book 4 – Through Dark Storms – Coming 2021
Genre: Fantasy, New Adult
Beneath Black Sails by Clare Sager