No Comments
The Sober Man by Steve J Eisenman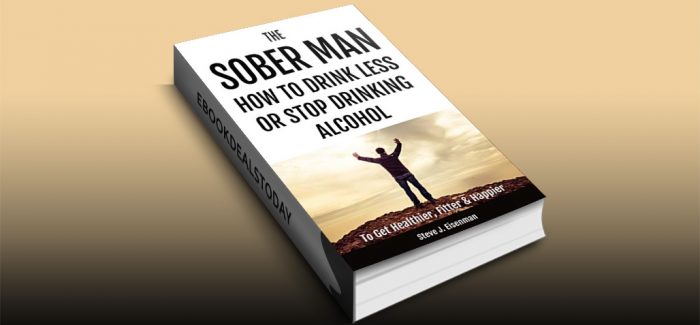 Realtime Price – $0.99
How Men Can Drink Less Or Stop Drinking Alcohol To Get Healthier, Fitter & Happier Now
Cutting Down Or Stopping Drinking Should Be Easy – And Is Possible Without Willpower
Cutting down drinking alcohol is the #1 thing you can do to improve yourself right now – and will have knock on effects on all aspects of your life
Learn How Alcohol Holds You Back And Damages Your Health & Mental Wellbeing
Discover the hidden costs of drinking alcohol for men – not just on your weight, fitness and long term health, but on your day-to-day mental resilience, testosterone levels, sleep, relationships and more. Cutting down your drinking will materially improve every one of these things.
Understand Why We Drink How We Do – And How Alcohol Traps You
End the sense of shame and self-blame that comes with drinking. It is alcohol – not you – that is truly responsible for your drinking and your actions & feelings when drinking. Learn how it works to trap you, understand the different types of drinker – and finally find the answer to the question "Do I have a problem?"
Learn How To Break Free of Alcohol Through Cutting Down. Overcome Alcohol Cravings
Understand how to control alcohol and drink less. It certainly isn't easy. But knowing what to do before you start to cut down, how to manage your drinking day-to-day, and what to do when things go wrong will all help.
Learn How To Stop Drinking Once And For All – If That Is What You Want
Learn how to stop drinking once and for all – right now – without using willpower. Remove the mental beliefs that make you think you need alcohol, and fight the harmful chemical effects of alcohol on your body and brain. No one-size-fits-all approach – learn how to evaluate different approaches, including Alcoholics Anonymous (AA) and rehab.
Understand What Life After Alcohol Is Like – The Incredible Freedom You Can Find
Know what to expect as a man from drinking less – what will happen to your mind & body, your friendships, and how you spend your time – both the enormous benefits and the many challenges you will face and how to overcome them. Benefits include losing weight, improving your fitness, improving your social life, sleeping better, greater mental resilience and more. This doesn't need to be a leap into the unknown.
Address The Underlying Issues That Contribute To Your Drinking
Learn how to address the underlying issues that drive you to drink. Once you are drinking less you will be in a much better position to address these underlying issues – and I can show you where to start.
Beyond All The Above Benefits – Why Else Should You Read This Book?
– It is written by a man and aimed specifically at men. Why men? Because alcohol affects men differently to how it affects women, men often face different issues in life – and because most of the literature available is aimed at women more than men
– It is short and easy to digest – you should be able to read it in under 3 hours
– It considers both cutting back as well as stopping drinking alcohol – rather than saying stopping completely is the only option
– It introduces several approaches that may work for different people – there is no one-size-fits-all solution
– It recognises that people have problems beyond alcohol that often contribute to their drinking, and that these don't disappear overnight when you change your drinking
Genre: NonFiction, Selfhelp
The Sober Man: How To Drink Less Or Stop Drinking Alcohol To Get Healthier, Fitter & Happier by Steve J Eisenman