No Comments
Stop Living Paycheck to Paycheck by Sam Dean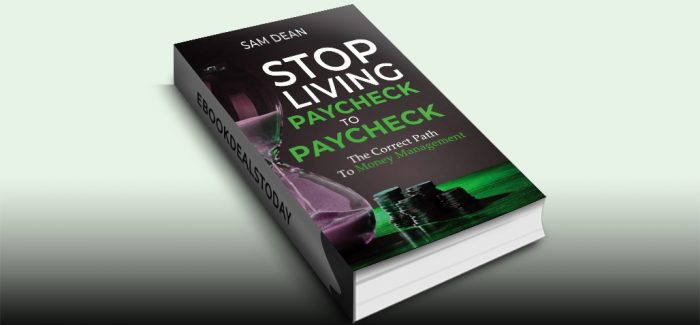 Realtime Price – $2.99
Are You One of Them? Beat The Statistics and Move Beyond The Paycheck to Paycheck Life
Rent is due, the gym and car payments are coming up, and you haven't gone grocery shopping in weeks. Before you know it, your entire paycheck is spent and you already can't wait for the next one.
Sound familiar?
Actually, 78% of Americans are currently living paycheck to paycheck. Today's world is wrought with financial difficulties, whether it's simply trying to get by or even having to deal with an unexpected medical bill, it's too often that we find ourselves struggling financially.
In fact, 70% of Americans have less than $1000 stashed away and 45% have nothing saved.
But did you know that there is a very simple way around this? What if I told you that you could increase your savings account by hundreds of dollars without having to get another job or starving yourself to death?
This is what happens on the other side of proper money management. As a matter of fact, with the right tools and techniques, you could save hundreds on your very next paycheck.
In Stop Living Paycheck to Paycheck, you'll discover:
* Your limiting beliefs about money and how to flip the script
* Why your relationship with money is just like any other relationship and requires your tender love and care
* How to determine what you actually need to be spending your money on and what is just something you want
* A bulletproof budgeting plan guaranteed to save you money from the very first paycheck
* The 5 principles of minimalism that will make you a happier person
* A list of 15+ ways to earn extra cash in less than one hour a day
* The groundbreaking power of compound interest and how it will make you rich
* A step-by-step guide to living below your means and still enjoy a life of luxury
… and so much more.
Getting ahead with your finances doesn't require a ton of taxing labor or some kind of super-genius mind power. It's a straight forward process of correct budgeting and a focus on saving before you spend.
With just a little bit of lifestyle adjustment, you'll soon realize how much extra money you actually have. You'll be able to save and one day even invest, leaving this whole 'paycheck to paycheck' mantra behind for good.
A life free from the stressors of money is not something only the rich get to enjoy, you just need to understand the importance of budgeting and how to structure your revenue streams accordingly.
Genre: Non-Fiction
Stop Living Paycheck to Paycheck: The Correct Path To Money Management by Sam Dean