No Comments
Science Friction: 15 Book MEGA Sci-Fi Romance Bundle (Excite Spice Boxed Sets) by Selena Kitt + More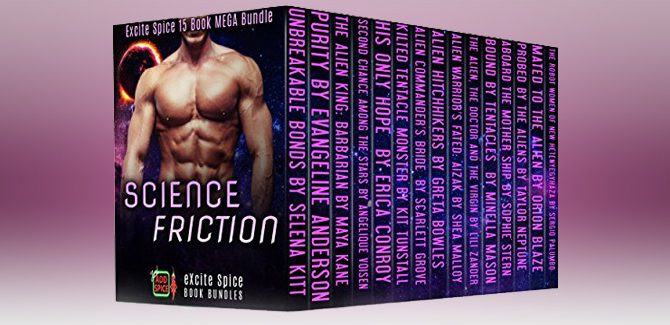 Realtime Pricing:Processing (1)

Do you like HOT, FREE books? Get 5 FREE reads just for joining EXCITE SPICE. Check out the "From the Author" section below for details!
Are you ready for some science friction? This 15 BOOK Excite Spice MEGA Bundle will take you on a journey to the outer reaches in search of the sexiest aliens you'll ever meet, in this or any other universe! These celestial hotties are looking for love all over the galaxy, ready to bond with human mates and seed new planets, going where no man has gone before.
Sixteen of the genre's hottest authors go interstellar in this collection of sexy sci-fi, giving you nearly 300,000 words of hot hijinks in hyperspace. Inside this bundle, you will find worlds that will both astound and titillate you, and intergalactic creatures that will blow your mind.
So let's go travel outside the Milky Way!
This EXCITE SPICE bundle is on sale for a LIMITED TIME.
K!NDLE UNLIMITED MEMBERS – DOWNLOAD THIS BOOK FREE!
FEATURING
Unbreakable Bonds – Selena Kitt
Purity – Evangeline Anderson
The Alien King: Barbarian – Maya Kane
Second Chance Among the Stars – Angelique Voisen
His Only Hope – Erica Conroy
Kilted Tentacle Monster – Kit Tunstall
Alien Commander's Bride – Scarlett Grove
Alien Hitchhikers – Greta Bowles
Alien Warrior's Fated: Aizak – Shea Malloy
The Alien, The Doctor and the Virgin – Lili Zander
Bound By Tentacles – Minella Mason
Aboard the Mother Ship – Sophie Stern
Probed by the Aliens – Taylor Neptune
Mated to the Alien – Orion Blaze
The Robot Women of New Hetényegyháza – Sergio Palumbo
Genre: SciFi, Romance