No Comments
PANDORA by Rebecca Hamilton, Riley J. Ford, Apryl Baker, and 17 other various bestselling and award-winning authors.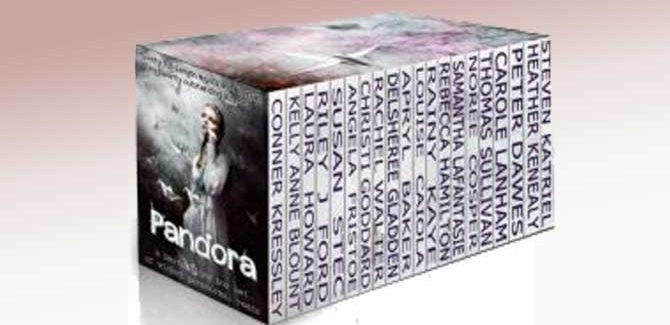 Realtime Pricing:Processing (1)
*TWENTY COMPLETE FULL-LENGTH NOVELS AND NOVELLAS FOR $0.99! NO CLIFFHANGERS!*
Brought to you by twenty exciting, best-selling, and award-winning authors!
Whether you love paranormal in the form of romance, suspense, mystery, horror, or fantasy, this best-selling box set of wicked paranormal readsbox set will have something to entice your preternatural sensibilities.
Riley J Ford, New York Times and USA Today Bestseller: INTO YOU
Winter Reynolds knows exactly what your friends are thinking, but there's a catch…
Rebecca Hamilton, Amazon Best-Selling and Film-Optioned Novelist: HER SWEETEST DOWNFALL
Ophelia's initiation won't be complete until she kills the man she loves.
Apryl Baker, Amazon Best-Selling and Film-Optioned Novelist: THE AWAKENING
Snap…crackle…pop. The sounds of bones breaking and shifting and of muscles tearing haunt Alexandria Reed.
Carole Lanham, Amazon Best-Selling Author and Bram Stoker Award Nominee: CLEOPATRA'S NEEDLE
"There are monsters in this world. Sometimes I have fallen victim to them and sometimes I have been one."
Thomas Sullivan, Pulitzer Prize Nominee: THE WATER WOLF
A cynical adventurer searching for links in a colossal subterranean network ultimately finds a dangerous churchyard in Ireland, where he encounters the strange magic of a small village.
Rainy Kaye, Amazon Best-Selling Author: SUMMONED
A reluctant genie criminal as he unravels the mystery of the paranormal bond controlling him.
Conner Kressley, Amazon Best-Selling Author: THE BREAKER'S CODE
Cresta's the kind of girl who thinks everything is the end of the world. Turns out, she might be right.
Laura Howard, Amazon Best-Selling Author: THE FORGOTTEN ONES
Secrets will eventually surface.
Noree Cosper, B.R.A.G. Medallion: A PRESCRIPTION FOR DELIRIUM
Demons, werewolves, possessed bikers, madness spreading like a virus, and a revenge that has waited for over five-hundred years.
Louise Caiola, Amazon Best-Selling Author: WHAT TRULY KNOWS
Some said Truly was born with a gift. Others, a curse. But for Truly, it was the very thing meant to save her life. If it didn't kill her first.
Susan Stec, Amazon Best-Selling Author: DEAD GIRLS NEVER SHUT UP
Toni's grandmother is a psychopath. Her sister is a ghost. Her boyfriend is possessed. And she has no idea who she is.
Christi Goddard, Amazon Best-Selling Author: FOUR IN THE MORNING
When a smart-ass magical creature invades Kathleen's life, a boy she hates turns up dead and her mother goes missing.
Steven Katriel, Amazon Best-Selling Author: THE PORTRAIT OF ALATIEL SALAZAR
When Gabriel Holland's beloved Helena vanishes from his life, he journeys to the home of disgraced artist Cristian Salazar, the man he holds responsible for her disappearance and the death of several friends.
Heather Kenealy, MTV's "Stan Lee presents the Seekers" and Cinescape's Short Story: THE TRAITORS' TRILOGY
Betrayal comes with a price. For these betrayers, it also comes with an opportunity.
Peter Dawes, Blogger Book Fair Reader's Choice Award: EYES OF THE SEER
It all started with a murder, but what laid in wait would turn a man into a monster.
DelSheree Gladden, Amazon Best-Selling Author: INVISIBLE
Being invisible won't hide Mason for long.
Angela Fristoe, winner of TheNextBigWriter 2010 Strongest Start Romance Category: LIE TO ME
with…
Samantha LaFantasie: MADE TO FORGET
Rachel Walter: TRUE CONNECTION
Kelly Anne Blount: SHADE
Genre: Fantasy Romance, Paranormal Romance