No Comments
Innocent in Las Vegas Box Set by A.R. Winters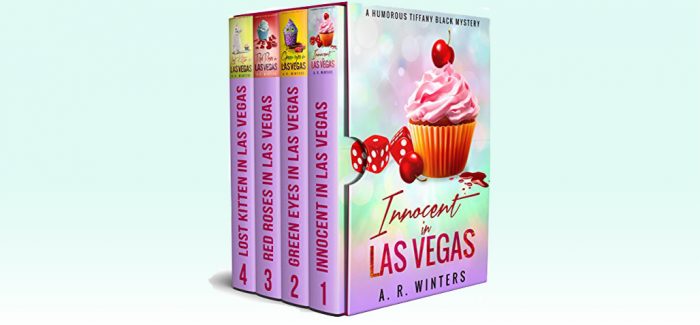 Realtime Price – $9.99
Welcome to Las Vegas – and a series of cupcakes-and-crime mysteries!
Cupcake-loving croupier Tiffany Black tries to solve four murders (and a daring art heist!) in this box set of four bestselling books. Her match-making mother and poker-playing Nanna insist on "helping" her out, as does her new friend and neighbor, Ian Ewanson.
Innocent In Las Vegas
Cupcake-loving croupier Tiffany Black is determined to leave her job at the casino for good.
She's one small step away from acquiring her Private Investigator license, and has her eye on the prize.
Accepting her first real case – investigating the murder of casino-mogul Ethan Becker – should be exciting. Instead, things spiral out of control and Tiffany finds herself in over her head, as she confronts secretive suspects, corrupt casino henchmen and a bodyguard with a mysterious past.
Tiffany's poker-hustling Nanna and pushy parents want her to find a nice man and settle down, but Tiffany just wants to track down the real murderer before he finds her first…
Green Eyes In Las Vegas
When cupcake-loving croupier and private investigator Tiffany Black witnesses a handsome, green-eyed man making a getaway after a daring art heist, she finds her normally chaotic life becoming even more complicated.
Tiffany flits between two cases: investigating the missing Van Gogh, and the murder of a Hollywood starlet with a secret life. As her investigation takes an intriguing turn and a man with mesmerizing green eyes comes into her life, Tiffany starts to wonder if this man might be the missing link between both crimes…
When her octogenarian friend Glenn starts dating a very inappropriate woman, and Nanna starts calling a twenty-something-year-old her "boyfriend", Tiffany wonders if being attracted to a potential criminal might not be so crazy after all.
Red Roses In Las Vegas
Just when Tiffany was ready to take a break from being a Private Investigator, she's pushed back into the thick of things.
Nanna is blamed for the murder of hedge fund manager Adam Bitzer – and the clock is ticking.
Can Tiffany prove Nanna's innocence in time?
Lost Kitten In Las Vegas
When cupcake-loving croupier and private investigator Tiffany Black meets an adorable, lost kitten, she never imagines it will lead her straight to a murder investigation, and a group of unpleasant neighbors – who just also happen to be potential murderers.
Genre: Cozy Mystery, Mystery
Innocent in Las Vegas Box Set: Tiffany Black Mysteries Books 1-4 (Tiffany Black Mysteries Box Set Book 1) by A.R. Winters