No Comments
House of Scarabs by Hazel Longuet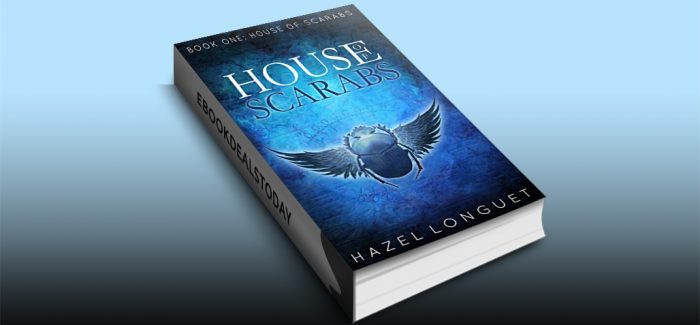 Realtime Price – $3.99
Three strangers bound together by ancient Egyptian prophecy. Will they survive long enough to uncover what the gods have in store?
Ellie has been betrayed by everyone she's ever met. Still recovering from her ex-husband's infidelity and the death of her unborn child, she throws herself into teaching Arabic classes. Not even her charismatic new student Ben can break through the defenses surrounding her heart. But a fateful trip to a bookstore specializing in ancient mythology will force the polar opposites to work together in a divine mission beyond their wildest imaginations…
Gerhard strives to be a pillar of his tight-knit community. As the owner of a bookshop devoted to mythology, the widower hopes to share the treasures of antiquity with future generations. When Gerhard, Ben, and Ellie cross paths among the stacks of books, a primeval force bonds the three of them together. Confused and unprepared for a mythical quest, they're sent on a dangerous mission that will take them from pastoral England to the shifting dunes of Egypt…
When an archaic order of assassins aims to stop them at any cost, Ellie, Ben, and Gerhard must quickly uncover their connection to the Egyptian gods. If they fail their mission, then their inexplicably connected lives may be lost in the sands of time…
House of Scarabs is the first book in The House of Scarabs action-thriller series. If you like quirky characters, tales of mysterious ancient powers, and fast-paced action in exotic locales, then you'll love Hazel Longuet's enthralling novel!
Genre: Action & Adventure, Paranormal, Thriller
House of Scarabs by Hazel Longuet