No Comments
Julia and the Duke (Bluestocking Brides Book 2) by Samantha Holt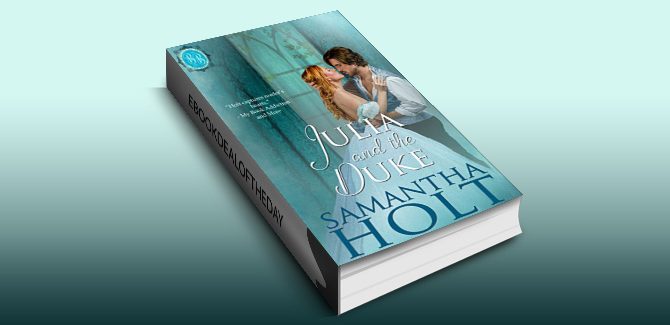 Realtime Pricing:$2.99

"One of them might now be a viscountess but it does not clear the taint of scandal from those frightful Chadwick girls. Why we must deign to entertain them, I will never know!" Lady Bromsley, Countess of Marlbury.
A new duke moving into their sleepy village doesn't interest Julia, especially when she hears all about his scandalous behavior in London. Rumors of gambling debts, illicit liaisons, and pub brawls surround the far-too-handsome Duke of Weston.
The far-too-handsome duke who happens to want to build a mill on her favorite nature spot, meaning Julia's beloved otters will be homeless.
Not matter what she says, the stubborn man will not back down, but this bluestocking will not give up easily. With the help of her sisters, she must find a way to persuade him to make money another way.
If only the far-too-handsome duke did not seem to enjoy riling her so much. If only he would not insist on getting under her skin and pretending to be interested in her. All this talk of liking redheads and freckles will not make her forget those animals in need.
Will it?
Genre: Historical Romance